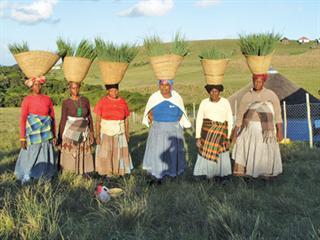 The Zizamele Farmers' Co-operative near Coffee Bay in Eastern Cape is a fine example of what can be achieved when a community is prepared to work hard together, learn from its mistakes, and secure markets for its produce. The co-op had an interesting beginning. In 2004, Cape Town couple Dave and Rejane Woodroffe settled in the area and established Bulungula Lodge, which is 40% owned by the local Nqileni community.
Over the years, the lodge and its many activities – horse riding, canoeing, fishing and forest walks – grew to provide employment for over half the households in the village. As part of their efforts to uplift the community, the Woodroffes set up The Bulungula Incubator – a non-profit organisation – to raise money for education, health and basic services, as well as to create sustainable livelihood projects.
Zizamele, funded by the Old Mutual Foundation, is one such project. Launched in 2009, the project began with eight women from Nqileni growing lemon grass (Cymbopogon citratus) in their 30m x 30m homestead gardens. Today, it consists of 20 women working on 2ha – not only growing the lemon grass but making essential oil and soap. And there are exciting plans to add more products to the range.
Project manager Phumzile Msaro says that the project has given the women not just money but independence. "It can change society because they won't have to depend on their husbands for money. Many of the men work on the mines and bully their wives because they're the main income earners," he explains.
Doing their homework
Lemon grass was chosen for the co-op as it's a very hardy plant, is easy to grow and survives harsh weather conditions well. It isn't traditionally grown in Nqileni, however, and the first group of eight farmers had to learn through trial and error. The Bulungula Incubator established a nursery plot to assist them with this, and also to provide parent material for expansion.
The co-op has been organically certified by the Bio-Dynamic and Organic Certification Authority (BDOCA) and growers are monitored every two weeks to ensure they comply with organic requirements. These include avoiding chemical fertiliser and using natural insect-control methods.
Thanks to careful record keeping and strict management, the co-op members have learnt a great deal about growing this hardy plant. They have also received valuable input from experts. Before their first lemon grass harvest, representatives from the Southern African Essential Oils Producers' Association and Karwil Agricultural Consulting visited the project to train the farmers on harvesting, drying and packing techniques.
All this hard work has led to ever-improving results. The first crop – harvested in April 2010 – produced just 500kg on 1,2ha. The second harvest, in October of that year, weighed 4t. And the May 2011 harvest of 6t on 2ha was the best crop to date.
Unfortunately, there have been setbacks too. The December 2010 crop, for example, was entirely ruined by mould and had to be thrown away. The local climate presents many challenges, according to Phumzile.
"In summer, the lemon grass grows very well, but because the humidity is so high, we have a fungus problem during the drying process. And at any stage, lemon grass rust can affect plants," he says. After the disastrous December 2010 harvest, the co-op's growers tried to find a better way of drying out the lemon grass leaves – and were rewarded when they discovered a remarkable solar dryer.
Designed and built by South African inventor JP van der Walt, the solar dryer is a simple wooden frame covered with clear plastic sheeting. This design allows it to capture and concentrate the sun's rays while allowing the wind to flow through. Under ideal conditions, the temperature inside can reach 50°C to 60°C, reducing the drying time to one day and helping to preserve the quality of the leaves.
Another ongoing problem is lemon grass rust (Puccinia nakanishikii), which tends to appear during wet, warm conditions or when plants are weaker. To fight it, the farmers make sure the plants grow vigorously, keep them dry, and cut away diseased leaves to prevent the rust from spreading.
Together, these difficulties posed a serious challenge for the growers. They secured a contract with Cape Natural Tea Products in Cape Town, which uses dried lemon grass as flavouring in its rooibos tea, but the company will not accept fungus on any of the leaves. This obviously limited the number of leaves that the co-op could sell.
Diversification
So the co-op began exploring a different route: essential oil and soap. In August 2010, the members visited an essential oil farm near Stanger in KwaZulu-Natal, and invited the Agricultural Research Council (ARC) to give a demonstration of essential oil extraction. They also visited Essential Amathole in Hogsback, which produces a range of organic essential oils and medicinal plant extracts.
In addition, ARC researcher Rose du Preez presented a soap-making workshop to the group. With funding from the Old Mutual Foundation, the co-op bought a 5kg still to produce essential oil. The advantage of this method meant that it could use the entire lemon grass crop, even the plants affected by fungus. It distilled its first oil in November last year, with 4,5kg of wet lemon grass yielding 15-30ml oil.
Soap production was launched a month later. The co-op produces two types – a glycerine bar and an olive oil-based bar, both with a delicious lemon grass scent and rich lather. Guests at Bulungula Lodge and some of the staff were the first customers, and bought up all the stock. The soap generated R5 600 in the first three weeks, and this success has encouraged the co-op to look for other markets.
"We've learnt that we can't focus on only one thing. If we sell our dry leaves to Cape Natural Tea Products for flavouring its rooibos and we have the soap business too, we can earn good money and create more jobs," says Phumzile. "If it goes well, we can expand into lotions, oils and fresh lemon grass stalks for the food market."
Independence
While The Bulungula Incubator will continue supporting the co-op through financial and skills training, the aim is to become fully independent this year. "With farming, there are always issues to deal with, but over the next year we expect the farmers will have the experience to manage these successfully," says Phumzile. "The fresh tea market is huge, so this project has the potential to expand to as many households who are willing to grow it."
Contact Phumzile Msaro on 083 950 0119 or 047 577 8908/12, email [email protected] or visit www.bulungulaincubator.org