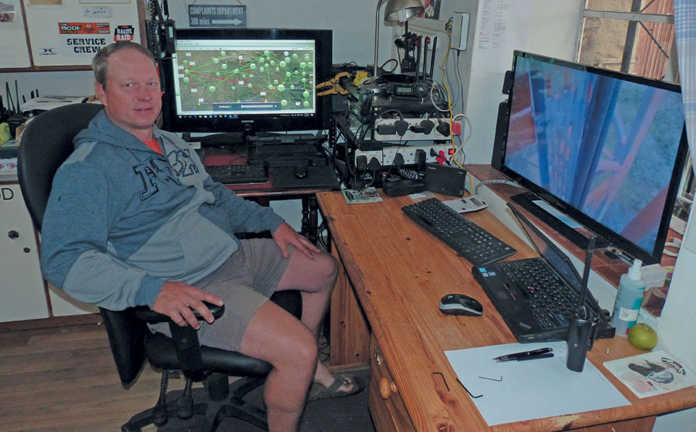 Establishing Snow Valley Communications (SVC) has redefined Chris Isted's life. It enabled him to purchase Reedsdell farm (more than 1 000ha) in 2013 after renting it for 11 years, and it has changed his working day completely.
Today, Chris is as likely to be found attending to his network of more than 60 wireless Internet (Wi-Fi) towers across the Eastern Cape and southern KwaZulu-Natal, as he is looking after his livestock.
SVC was born from Chris' determination to secure reliable connectivity on his farm in the isolated Wartrail region of Barkly East, which is notable for its outdated Telkom land lines and patchy cellphone reception.
READ Small land, big dreams for urban veggie farmer
Chris eventually decided to erect towers between the nearest ADSL (asymmetric digital subscriber line) contact in Aliwal North and Reedsdell under the supervision of Wellington-based Johan Lemmer, who had carried out similar projects in the Western Cape.
By mid-2009, four towers, costing a total of R80 000, had been erected, and SVC became a licensed Wi-Fi service provider. Within weeks, Chris had ten local customers, and went on to gain clients from the corporate and public sectors.
Expanding the company
Chris' business grew rapidly for a number of reasons. Firstly, Telkom's refusal to upgrade farm lines and MTN and Vodacom's unwillingness to set up services in sparsely populated, unprofitable areas, meant that SVC was the only option for many users in the region.
Chris even attracted customers of established telecommunications companies who were dissatisfied with what they regarded as costly and unreliable connectivity.
"We had clients who are practically under cellphone towers but weren't satisfied with the reliability of expensive data," he says.
Secondly, SVC offered product diversity. In addition to Wi-Fi, which included uncapped packages, SVC installed customised short- and long-range point-to-point wireless links, and set up hotspots for tourism initiatives, VoIP (voice-over Internet protocol) and VPNs (virtual private networks).
Two-way radio
This diversity was widened by Chris' two-way radio initiative, launched in 2006. Today he is an authorised Motorola, Icom and Kenwood dealer offering two-way radio services to many clients, including PG Bison, Merensky Timber and Rance Timber.
He explains that two-way radios remain popular in the Eastern Cape, despite the ubiquitous cellphone.
"There's nothing that beats two-way radios. You can get the message out there to 100 people within seconds because of the repeaters. Everybody thought that because of cellphones, radios would become less important, but they haven't. It has been picking up all the time."
But the most important factor in SVC's growth has been the increasing appetite for data. Today, online banking, Skype, social media, large automatic updates of software on computers and phones, and entertainment packages such as Netflix and ShowMax have all become part and parcel of life for even the most isolated of farmers.
"When we started out, most of our clients were on 1GB," explains Chris.
"Now most of them are on uncapped packages of between 100GB and 200GB a month. Data consumption has increased a hundredfold. People are constantly online."
Merger with TWK
Chris responded to increased demands for data by accessing South Africa's national long-distance fibre network. He also became an agent for Western Cape-based TWK Communications, and, with its support, steadily upgraded his network to manage increased data speeds and redundancy demands.
At the beginning of 2017, Chris took a leap forward by merging his business with TWK. The new company, trading under the TWK name, uses its enhanced network capability to bring fibre speeds to rural areas.
JOIN Farmer's Weekly's WhatsApp Group
"We'll never get to the point where fibre will be entrenched on each farm [as it wouldn't be cost-effective]. We have to use the wireless networks we already have. We can now piggyback on the fibre backbone; something we couldn't do before," he says.
TWK offer clients uncapped packages with speeds of between 3Mbps and 20Mbps, depending on location and requests. To put this into context, the fastest speed that Chris could offer via his ADSL contact was 4Mbps.
"Prices have dropped substantially since we first started as we have very good deals with the fibre companies because of the amount of data and fibre points we're using," says Chris.
TWK has also become an off-net provider for major telecommunication companies such as Neotel, which is reluctant to install expensive optical fibre in rural areas.
The company is involved in a broadband infrastructure deal between Neotel and Western Cape municipalities to roll out optical fibre to government institutions and thousands of schools.
"We build the [Wi-Fi] network like a spider's web to schools and municipalities," says Ronald Palmer, TWK general manager. "We run it, manage it and maintain it, but Neotel uses it as if it's their own."
Ventures such as these hold promise for expansion in the Eastern Cape and beyond as fibre-quality Internet becomes the norm. "There are still many areas that are untapped," says Chris.
"We've had phone calls from all over South Africa."
Logistical challenges
Most of TWK's towers in the Eastern Cape are installed on summits to ensure direct line of sight, but their isolation makes maintenance difficult. "Some are accessible only by motorbike, horseback and on foot," says Chris.
Extreme weather, including temperatures as low as -20°C, make constant monitoring and maintenance necessary. This was demonstrated during the winter of 2009, when the cold damaged his first, newly-built towers.
"The ice built up on the towers and the dishes just weren't designed to take the weight. They just snapped off."
Chris sourced more robust equipment, used stronger brackets, and welded the equipment more securely to the structure.
Lightning has also proved a challenge, striking a few towers over the years, while fires have destroyed two of the structures. Theft, too, is a problem, with batteries and solar panels having been stolen from isolated installations.
Chris has once again improvised, welding casings and customised steel boxes for the panels and batteries respectively. "You're going to need an angle grinder [to cut them out]," he says. "You'll be busy for half the day."
Community empowerment
Skilled workers to build and maintain the TWK networks are in short supply. To solve the problem, and eventually provide jobs in the areas it operates, TWK plans to launch an intern programme at local schools to train up youngsters in these tasks.
Phone Chris Isted on 045 050 0200 or 045 971 0528, or email him at [email protected]. Visit twk.co.za.