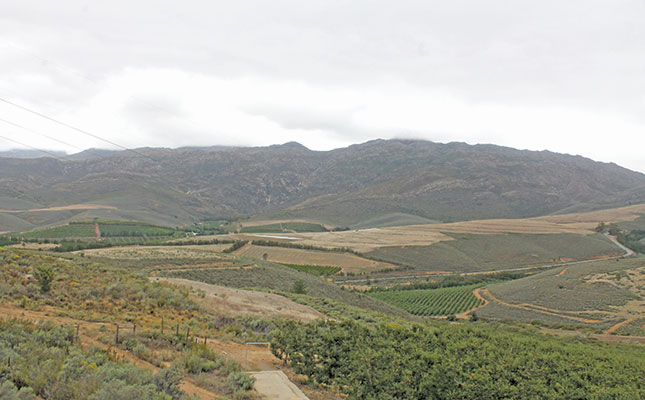 Sewis van der Horst believes the quality of the fruit produced on his farm, Loufontein, is comparable to that of any commercial producer, and adds that nothing about his fruit indicates he is an emerging farmer.
Van der Horst, the son of farmworkers, grew up on a stone fruit farm in the Western Cape's fertile Hoeko Valley.
"I always had a love for farming," he recalls. "As a child, I'd help pick fruit during school holidays."
After matriculting in 1991, he remained on the farm as a general farmworker.
"Agriculture is my passion, but I didn't want to stay a farmworker for the rest of my life. I wanted to own a farm," he says.
In 1993, the owners of the farm offered him the chance to attain a higher education, and he enrolled for an agricultural diploma at the Kromme Rhee Training Academy, just outside of Stellenbosch.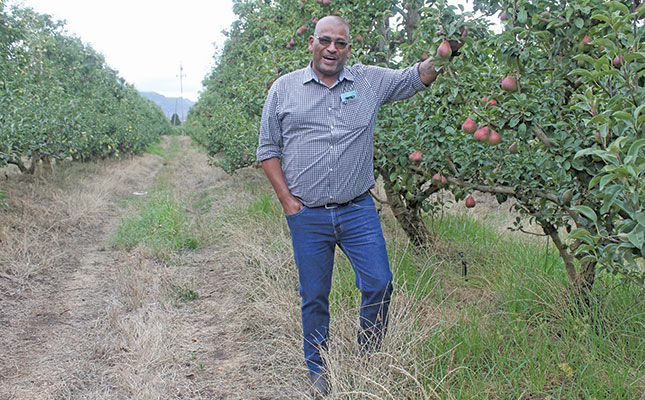 After completing his studies, he worked in various managerial positions. He then began applying to government for a land reform farm. After numerous attempts, he finally received a property from the then Department of Rural Development and Land Reform through the Proactive Land Acquisition Strategy. He was granted a 30-year lease, with the option of buying the land.
In 2016, Van der Horst took charge of the 1 165ha Loufontein just outside of Villiersdorp. When he received the farm, apples, pears and nectarines had already been planted on 30ha, 12ha and 1,27ha respectively. However, the orchards and the farm in general were not in very good condition.
"The irrigation systems were a mess, the orchards were not pruned properly, and the pest management and fertiliser programmes were inadequate," he recalls. "In addition, the maintenance of the implements was also minimal."
He had also incurred some debt with the farm.
Getting the basics right 
Van der Horst had to take many corrective actions. His turnaround strategy was based on the importance of getting the basics right. Needless to say, this included determining what could be done to return the orchards to their full potential.
Fertilisation is vital in rectifying deficiencies and imbalances. To ensure he has an adequate fertiliser programme in place, Van der Horst uses the services of Two-a-Day consultants, who take leaf samples annually and suggest fertiliser and foliar applications based on their analyses.
Van der Horst also employs specialist consultants to analyse soil samples every three years.
He says he can already see a shift in production and the quality of the fruit produced on Loufontein. Last season, a block of Golden Delicious apples that was producing 47t/ha when he took over the farm yielded 90t/ha.
According to Van der Horst, some of the apple varieties planted on Loufontein struggle due to the unfavourable microclimate, which is too hot for certain cultivars. His plan is to re-establish these orchards with early apple varieties that are better adapted to the area.
Fruit varieties
Currently, Van der Horst's apple production comprises varieties such as Royal Gala, Golden Delicious, Granny Smith, Royal Beaut, Early Red One and Big Bucks. Van der Horst still needs to replace at least 20ha of apple orchards as they were not economically viable.
In 2019, he re-established 5ha with Big Bucks and expects this orchard to start bearing fruit by 2021/2022.
The pear varieties on Loufontein are Packhams Triumph, Rosemarie, Forelle and Bon Chretien. According to Van der Horst, the pears are doing well, and he will plant new orchards rather than re-establishing some of the older ones.
He adds that the block of nectarines on the farm are a very old variety and the fruit is too small for export; it is therefore sold to hawkers.
Loufontein's apples and pears are packed by Two-a-Day and marketed through Tru-Cape Fruit Marketing.
"In order to export, it's important to comply with international health and environmental protocols,"  says Van der Horst. "We're therefore certified with GLOBALGAP, Tesco Nurture and Siza."
The average packout rate for first-grade apples and pears is 70%.
"I'd like it to be higher," he says. "But it's often due to factors beyond our control, such as wind damage, especially among the pears."
Every year he holds an end-of-season debrief with his team so that they can determine ways of increasing the packout rate. The average pear yield is 65t/ ha, while apples yield 50t/ha.
The apple tonnage can be attributed to the old and unsuitable varieties on the farm.
"This is another reason I'm systematically replacing the apple orchards on Loufontein, as some of them don't contribute to the bottom line," says Van der Horst.
The biggest obstacle 
The agriculture sector is fraught with obstacles, especially for an emerging farmer. For Van der Horst, financing is one of his biggest obstacles.
Financing to buy a farm or to improve operations is simply unavailable.
"I'm not seeking a grant, just financing that's structured in such a way that I can improve my operations and repay the loan over time at a fair interest rate. Unfortunately, there's no such a model," he says.
"The Land Bank takes very long to approve an application, and once it's approved, you're already so deeply in debt that the amount paid out doesn't help much."
According to Van der Horst, another challenge is increasing input costs. This, he believes, is of particular concern for small-scale farms, as it puts a huge strain on their profit margins.
He points out that the salaries of labourers account for almost 50% of a business's budget, an expense that was much lower in the past.
"If you take all these issues into consideration and compete with a commercial farmer who has been farming for more than four generations, it makes it very difficult for new entrants to compete."
Van der Horst's short-term goal for Loufontein is to re-establish all the old orchards and replace them with newer, more suitable cultivars, and to increase the production of the younger orchards.
"I want to take the farm to an economic unit of 60ha over the next five years," he says, adding that he would like to buy additional land on which he can plant alternative varieties to those on Loufontein, in order to spread his risk.
Livestock component
Only 180ha of the farm are suitable for cultivation. Van der Horst would like to utilise the entire property by adding a livestock component. He already has 13 Black Angus cows, and aims to increase this to 100 cows over time.
"I'd also like to play a bigger role as a consultant to other new entrants to ensure the required knowledge is communicated to them so that they don't have to struggle and just become another statistic," he says.
Email Sewis van der Horst at [email protected].