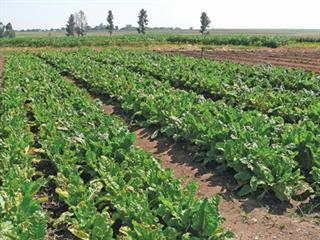 It takes a special kind of courage to pack up your home in the city and start a new life on a farm – especially when you're not sure what you're going to grow! But if you have a passion for the land and farming, you can make it work. The Buda family has certainly proved that.
After working in the construction industry for more than 30 years, Patrick Buda decided to follow his lifelong ambition of becoming a farmer. The idea also appealed to his wife Sarah, and the couple, with their son Muzi, trekked from their home in Silverton, Pretoria, to the 222ha Varkfontein Farm just outside Petit on the East Rand, in March, 2007.
Starting off small, the Budas have made steady progress, and today produce substantial quantities of carrots, onions, cabbages, beetroot, spinach, tomatoes, green peas and lettuce, for a Pick n Pay outlet in Pretoria. They also grow maize and soya beans.
The Budas acquired the property – a failed land reform co-op enterprise – through the Department of Rural Development and Land Reform's Proactive Land Acquisition Strategy (PLAS). "We got a three-year lease in 2007, but we have since signed for another three years," explains Patrick.
Difficult start
When they moved onto the farm, it was a shambles. The house had been vandalised, the roof and window frames were missing, and weeds were growing everywhere. The family began repairing what was left of the house with their own money. They also began planting vegetables, beginning with just 1ha of spinach, beetroot and cabbage, which they marketed through local hawkers.
After this, they increased the planting area every year, but Patrick was not satisfied with their slow growth and wanted the farm to reach its full potential more quickly. "The trouble was, we had limited resources and we couldn't plant on most of the available land. I needed funding," he explains.
Expansion
The Budas sat down, came up with a detailed expansion plan, and last year approached the Ekurhuleni Peermont Chambers of Commerce Trust. Since 2008, this organisation has contributed nearly R15 million to 35 community-based projects. "Although the trust had never before funded primary agricultural projects, I applied for finance and it was approved," says Patrick. The family was given a grant for R333 000.
Patrick used the grant to install an irrigation system for 6ha of vegetables, buy a 1,3t delivery truck and a tractor, and purchase enough pesticides and fertilisers to plant about 28ha of rainfed land to maize and soya beans. "We're also in the process of installing a cold room and building a small pack house," says Sarah. "Our goal is long-term profitability, but at the same time we want to help some of the poor people in the area by providing a reliable income for them."
Don't be greedy!
The Budas are currently marketing their vegetables through the Denneboom Pick n Pay near Mamelodi outside Pretoria. Patrick has been approached to supply three other companies, but has had to turn them down at this stage as Varkfontein's production is still insufficient.
"It's important not to be greedy and commit to a bigger market than you're able to supply, he explains. "That way you get a bad reputation, which can haunt you in future dealings." As the farm is not yet producing at its full potential, Patrick has developed a sideline business: supplying chicken feed to local small-scale poultry farmers. He buys the feed in bulk from a supplier and delivers it to farms on order.
The income from this has been surprisingly good, and he now wants to expand it by setting up a mill to grind his own yellow maize. "I've met with a nutritionist who's prepared to teach me how to mix feed," he says.
The right people
Peermont Group chief corporate affairs executive Vusi Zwane says that he takes his hat off to the Budas and is proud to be associated with their farm. "I believe they were the correct people to invest in. The trust will support them until their farm becomes sustainable and they can run it on their own," he explains.
Vusi adds that a great deal of agricultural land goes to waste because it is not given to the right people. "With the correct people on the land, private and public partnerships can help address the failing land reform projects," he points out."Running a farm is not like any other job. You have to love working on the land, be able to plan carefully and have plenty of patience."
Patrick and Sarah certainly fit this description. They gave up a comfortable life in the city to follow their dream of farming. And since then, they've planned carefully, worked hard and allowed their farm to grow steadily one step at a time.
Too many people
Patrick believes co-ops are not always a good idea – and he's had first-hand experience. Back in 1994, while he and he and Sarah were living in Tweefontein not far from Pretoria, they joined a community upliftment project raising broilers. A co-op with more than 30 members was formed and the project was funded by the KwaMhlanga Development Corporation.
It supplied day-old chicks and feed, and also bought the broilers – about 1 600 per cycle – from the members. It would then deduct its input costs and the profit was divided among the members. But infighting soon began and before long, the co-op was dissolved.
As another example of a failed co-op, Patrick points to the very farm that he and Sarah occupy today: Varkfontein.
"Government gave this farm to a co-op, but it collapsed, and the members started looting the farm until there was nothing left," he says. "The problem is grouping people together. When a business is owned by many people, conflict can be expected."
Contact Patrick Buda on 079 365 9022.