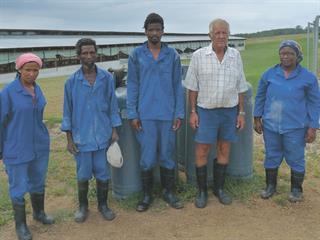 "Red Crest Farms CC (RCF) is the expert in the chicken-production business and has skilled people which we lack," says committee member and chairperson of the Ncera Broiler Production Project (NBPP) Makwenkwe Mkokeli. The NBPP is a community-based, municipal-funded project which has been unable to make a profit in six long years due to a number of problems including poor management.
RCF is one of the biggest commercial producers in the region and trades as Anca (fresh chicken) and Chooks (frozen chicken). It recently took over the management of the project and helped it turn the corner.
A much improved chicken project
RCF produces 80 000 broiler chickens a week from farms across the Border region of the Eastern Cape. Some 74 000 a week are slaughtered at its abattoir near Stutterheim and the balance is sold live.
Always expanding, RCF is interested in increasing volumes no matter how small the opportunity. In 2007, it agreed to slaughter all the birds that the NBPP could supply. "Back then chicken mortality was high due to a lack of experience and the NBPP wasn't making any profit," recalls Greg White, a director of RCF.
RFC was approached by the NBPP committee in 2009 to take over complete management and agreed, confident that production could be boosted in the two non-automated 1 000m² chicken houses which can accommodate 18 000 chicks.
"It was also a worthwhile agreement for us as we didn't have to build chicken houses, which probably cost about R600 000
to R700 000 each," he says.
RCF's first step was to take stock of the project via a costing exercise, to uncover exactly where money was being lost and how to address related management issues. Not surprisingly, one of the major challenges was a lack of capital. Mike Armstrong, a retired pineapple farmer, who was appointed to supervise the project, clearly remembers the frustrations associated with the struggling business.
''Nothing was getting done, you couldn't repair anything. If you needed nails, you had to pay for them out of your own pocket."
So RCF bought everything needed for the project, including feed and chicks and also paid the staff, says Greg. The NBPP could then benefit from the RCF's contacts, expertise and experience through one of its farm managers, Terry Miles, as well as Mike Armstrong.
Stringent production management
Strict management of the project is vital. The RCF has managed to achieve a narrow profit margin, but this depends on mortality being kept below 6%. Then there are the huge costs of feed, gas and electricity. "You have to be quite strict about production management," says Greg.
Successful broiler production begins with sourcing quality chicks, he points out. Other critical factors for success are quality feed, clean water, efficient biosecurity measures, efficient cleaning and disinfection and resting of chicken houses between cycles, along with a comprehensive vaccination programme. "Get the basics right and the rest will follow naturally," says Greg.
There are, however, unique issues that the NBPP project has to face. These include the humid heat in the valley where the chicken houses are, says Makwenkwe. "The insulation wasn't done correctly and there aren't any fans, so the only way to cool down the chickens is to roll up curtains to allow the breeze to blow in," he says.
Greg adds that they're considering installing fans once profits increase. "In the meantime, we've been spraying water on the roof of the chicken houses," interjects Mike. "We're thinking about getting another motor because by the time you have done one chicken house and you want to go to the next one, the first one is red-hot again."
Addressing social problems
A major problem over the years at NBPP has been the staff. Mike explains that the main reason behind the poor performance was that new employees were appointed for each cycle, to involve the entire community of nine villages.
"So with each cycle you had new staff, and you were teaching people all the time. They weren't interested because they knew that when working with one lot of chickens was finished, they were finished."
The NBPP committee had also told workers that any chickens that died could be taken home. Some helped them get there a little faster.
"They would push the wheelbarrow over the chickens," Mike says. "I saw one worker wringing their necks and went to report him, but nothing happened. The committee let him work until the end of the cycle." When RFC took over the management of the NBPP, it insisted that only four promising workers were employed. "We wanted only the four of them to run the site – we didn't want 20 who got paid the same, because then you wouldn't make a profit," says Greg.
However the most serious problem was theft, from the very community to which the project belonged. "It's something we can't deny," says Makwenkwe. "They [the thieves] are people living amongst us, while some others come from far away,'' says Makwenkwe.
He was forced to give up stock farming in the area due to theft and also had to close a small shop due to ongoing armed robberies. During one cycle between 7 000 to 8 000 chickens disappeared. Organising security from the community didn't seem to work, as nobody knew who was a friend or a thief, says Makwenkwe.
The only option was to hire a private security company at a cost of R6 000 a month, which was another expense eating into profits.
Today, they're using armed private security guards and have repaired the faulty electric fence.
This has radically decreased the number of chickens being stolen. "When the chicks are about 10 days old, we bring in security guards – one armed one unarmed," Makwenkwe explains.
The thieves have apparently been screaming insults and threats from the darkness, but at least a stand has been made, even if it's from behind the barrel of a gun.
A healthy-looking future
Today, finances at NBPP are strictly managed and profits are only paid into the committee's account once all necessary expenses have been accounted for.
"At the end of a cycle, we pay them a certain amount per kilogram of chicken. We also present a spreadsheet where costs including gas have been subtracted to arrive at the profits," says Greg.
He explains that it'll take time to entrench efficient production systems at NBPP to reflect real success. "Give this place another eight to nine months and we're almost there."
Already after the first cycle with RCF in charge, a R26 000 profit has been made and another R20 000 is expected to be made in the second cycle – a welcome change in the NBPP's fortunes.
Contact Greg White on 083 703 1713 or contact Makwenkwe Mkokeli on 076 797 3825.