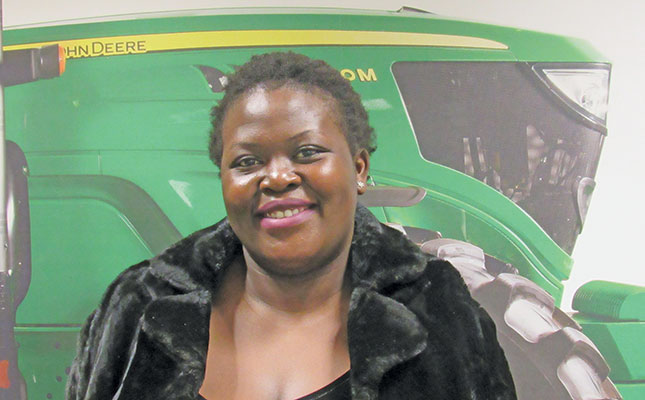 What does your job at John Deere entail? 
As an agricultural equipment technician, I'm responsible for the set-up, maintenance, servicing, diagnosing, repair and reconditioning of agricultural equipment at the shop or in the field.
The equipment we work on includes tractors and combine harvesters, as well as a variety of implements for agricultural operations such as tillage, seeding, planting, harvesting and spraying.
Our services are used by equipment manufacturers, dealerships and independent repair shops, and large farms.
An agricultural equipment technician is also involved in teaching clients how to operate new equipment, and consulting with them to pinpoint problems and determine their specific needs. Good communication and customer service skills are therefore essential.
In my current position, I train technicians from our dealer networks, including Afgri, GWK and Senwes.
How did you end up following this career path?
In high school, I'd already developed an interest in the mechanical field. In 2007, I matriculated from Pretoria Technical High School, where I majored in motor mechanics from Grade 10 to Grade 12, to pursue a mechanical engineering degree.
But my mathematics grades didn't qualify me to study a degree, so in 2008 I upgraded the subject at the Wits Star School during a six-month programme.
I then registered for a mechanical engineering course at Tshwane South TVET College in September 2008; this is an N6-level National Certificate in Engineering Studies.
I had only one subject left to complete the course when I decided to look for an internship.
In 2012, I was accepted by John Deere to start a four-year apprenticeship programme. The minimum requirement at that time was an N2- or N3-level National Certificate in Engineering Studies.
The application process was done through the Artisan Training Institute in Roodepoort (ATI). I was one of the top five students who'd written assessments for acceptance.
ATI worked like an agent for companies to get apprentices for training. I trained as an apprentice tractor technician at John Deere for four years, and the training included both practical and theory.
I qualified as a tractor technician in July 2015, after receiving the Red Seal AgriSETA-accredited certificate.
I served as a tractor technician for a short time, then became an intern in the training department for six months, after which I was an intern for six months in the customer product support department. Here, in 2017, I shadowed a territory customer support manager.
After this internship, I was offered a job as a junior instructor.
Over the next five years, I want to explore other opportunities within the sector. I'd love to become a technical territory customer support manager.
What challenges did you have to face in this traditionally male-dominated industry?
Due to the size and complexity of the equipment, the work is often very physical, and requires long hours on one's feet, climbing, crouching, and heavy lifting. Traditionally, this type of work has been done mostly by men, and I encountered some clients who at first doubted my ability to do the work.
It was difficult to change the perception that I wasn't as capable as my male colleagues.
When I was still an apprentice, I always had to prove to our customers that I could service their machines, and was able to diagnose complex problems and interpret technical manuals and schematics.
So, by the time I started my current position, my attitude had already changed in terms of what to expect and how to deal with the perceptions of those clients who still doubt my abilities I now try to just focus on doing the job well, instead of worrying about impressing anyone.
When I do the training, my focus is on making certain that the trainees walk out of class with new information. Even if they learn only one new thing, that's already a job well done.
What changes have you noticed in the sector over the years, and how do you keep up with the ever-changing and more complex technology?
There are more young people in the farming industry now, but we need even greater numbers.
I'm fascinated by machines, and having to evolve with the technology in agriculture is mind-blowing. It moves at a fast pace, with changes taking place every day.
Electronic systems and controllers are now standard on new agricultural equipment, and are adapted to existing equipment. New, specialised diagnostic and testing tools, such as laptop computers and engine analysis units, are used, and there's a trend towards remote diagnostics tools.
The continuously variable transmission is also becoming popular because it increases machine efficiency and engine performance, and decreases fuel consumption.
More and more clients are investing in larger, quicker, more sophisticated, multipurpose equipment, and there's also greater diversification in the industry. All this makes the technician's job more complex.
Farming has become more efficient through the use of precision equipment. This has led to increased training requirements for technicians. With the constant changes, training needs to happen regularly.
The good news is that new technology also assists with getting training online. Thanks to quick access, people can be trained on a daily basis.
What advice would you give to others who are keen to pursue this career?
It's all about passion. I can only speak about my experience as a black woman. Many of us come from a background where we aren't really exposed to certain careers because of the stereotypes attached to the agriculture sector. Many [women] don't want to participate, fearing that because it's so male-dominated, they might feel intimidated.
If you're in this position, I suggest you become more knowledgeable, and continue developing your skills as you grow in the industry. Over time, you'll grow more confident.
It's still a man's world out there, but women need to build up the courage to stand alongside men if this career is their passion.
In the beginning, I almost didn't take this opportunity because of the environment in which I was going to work. But I'm grateful to those people who believed in me and encouraged me to persist.
Sometimes we know the direction we want to take, but we get sidetracked. Having encouragement and a push in the right direction also helps.
What can the sector do to attract more women?
I think the industry needs to act more proactively to give women an opportunity to be exposed to the industry and the opportunities it offers.
I knew nothing about tractors until I started working at John Deere. It would be wonderful to have more women in the sector. I believe I've helped to pave the way.
Email Lerato Baloyi at [email protected].