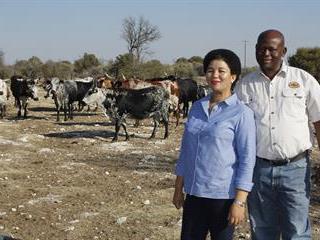 Kabelo and Matshidiso Mooketsi farm on Driehoek (1 855ha) in the Vryburg district in North West. Their mixed operation comprises cattle, goats and layer hens. This husband-and-wife-team won the prestigious 2015 ARC Commercial Nguni Elite Cow award, a noteworthy achievement for anyone, but remarkable for a couple relatively new to farming.
Matshidiso previously worked at the Department of Home Affairs and resigned in 2001 to become a full-time businessperson. Kabelo worked for the Kuruman municipality, a job from which he eventually resigned due to extensive travel requirements. The couple then started a construction company and carried out a considerable amount of work for the government. They saved some money from this business, which they put into their farming operation.
Starting out
"Our first attempt at farming was on a municipal farm in Tosca, which proved to be difficult as it was very run-down," Kabelo recalls. The Mooketsis worked on the farm from 2008 to early 2011. For the first 16 months they had no water and had to fetch it from a neighbour using a tractor and trailer. At this stage, they had 39 cattle.
In 2008, they applied to the Nguni cattle programme through the North West department of agriculture, in collaboration with the Industrial Development Corporation, and received 24 Nguni cattle. Later, they applied to Nerpo for a loan, which they settled, and went on to secure another loan of R250 000 to buy their second herd of 20 Bonsmara cows.
In January 2011 they acquired Driehoek through the Department of Rural Development and Land Reform. They will be eligible to buy the farm five years from now. The farm's homestead and facilities were in a dilapidated state when they arrived, and they had to spend a great deal on refurbishment, including selling their home in Vryburg. They now live permanently on Driehoek.
"We've divided the farm into 15 camps of about 120ha each, which are rotationally grazed. Some of the camps are rested for at least six months," Kabelo explains. Driehoek, which has four boreholes, also has extensive Acacia bush, which the Mooketsis selectively clear when it becomes too dense. The farm's goats are helpful in this regard.
Driehoek has 121 Nguni and 30 Bonsmara breeding cows. The carrying capacity of Driehoek is 8ha/MLU, so the farm can carry 180 to 200 cows. Cows are put to the bull in November and December and run with the herd while pregnant. Weaning
takes place at seven months when the animals are auctioned at the Vryburg market. Heifers are kept for breeding. The Mooketsis intend starting their own feedlot to add value to their product and make more money.
In 2014 the Mooketsis started a layer project with 1 500 birds. "Before we started with our layer hen project we approached the Taung Department of Agriculture, who arranged on-farm training," Kabelo says. They invited local people – potential farmers or workers – to attend the training. The Small Enterprise Development Agency (Seda) appointed a consultant who prepared a business plan for the project.
Seda submitted the proposal to the Department of Trade and Industry (DTI), which provided a R350 000 grant. Using these funds, the DTI appointed a contractor to convert an existing structure into a layer house, install cages, water and feeders, and supply the birds.
Biosecurity and chicken health are taken seriously in the Mooketsi's enterprise. The chicken house is spotlessly clean, the birds are in excellent condition, and a biosecurity foot bath is set up at the entrance to the chicken house. Only certain personnel are allowed in.
When the birds get too old to lay economically, they are sold live or slaughtered. New point-of-lay birds are then bought at a cost of about R52 each – a collective cost of approximately R78 000. Eggs are marketed through a wholesaler in Kuruman as well as to smaller customers locally. According to the Mooketsis, this is a profitable enterprise, and they are looking to double their numbers before long.
Goats were introduced on Driehoek in 2012. The couple started with just two Boer goat ewes and a Kalahari Red ram, and now have 54 goats. The ram runs with the ewes year-round. Twins and triplets are produced regularly.
Goats are sold live to people in the area. According to Matshidiso, the department of agriculture has informed them of a market for goats in Saudi Arabia and has offered them assistance in this regard.
Advice to new farmers
Matshidiso says that capital assistance is a new farmer's greatest challenge. "It took us two years to get the recapitalisation funding we applied for, after we'd progressed so far on our own without assistance." She adds that farming is a business, and a farmer has to have a plan and stick to it. There is also a need to have a fire in one's heart, determination, discipline and total commitment. "Try to excel. The word failure is not in our vocabulary. We don't take no for an answer. It's always: yes we can!"

Phone Matshidiso Mooketsi on 082 356 1711 or Kabelo Mooketsi on 076 959 7118.