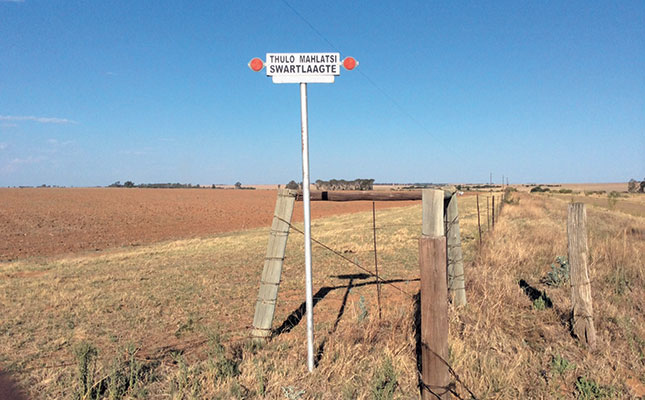 Thulo Mahlatsi (75) farms on the 513ha farm, Swartlaagte, in the Free State. Some 203ha are planted to maize, and Thulo managed to harvest 250t in the 2015/2016 season, despite drought and hail damage.
READ From fruit hawker to successful lemon exporter
The insurance payout for the hail damage, coupled with the profit realised from the harvest, enabled him to plant the 2016/2017 season's crop debt-free, and this time he harvested more than 1 000t. "I was born to be a farmer," he says.
Acquiring land
Thulo grew up on a farm in the Bothaville district and has extensive experience as a tractor driver, as well as in ploughing and planting.
In 2010, he asked his then employer, Frikkie Rautenbach, to help him acquire land, and Frikkie began making arrangements for him to farm on Swartlaagte.
Thus, in 2011, the Department of Rural Development and Land Reform (DRDLR) bought Swartlaagte from Frikkie on behalf of Thulo under the Proactive Land Acquisition Strategy (PLAS).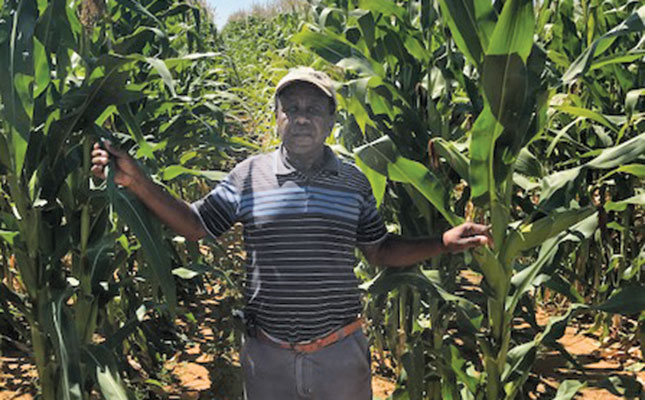 However, under PLAS, the land remains in the ownership of the state, and thus Thulo took possession, but not ownership, of the land on 1 January 2012.
Frikkie also lent Thulo a tractor and various implements. Sadly, however, Frikkie died in the same year, and the equipment had to be returned to his estate. Thus began more than two years of struggle for Thulo.
READ Private land reform initiatives are paying off
"I was left on my own, without any equipment and no production capital," he says.
The turning point came when he joined Grain SA's (GSA) Farmer Development Programme in 2014.
The organisation's regional managers, Danie van den Bergh and Johan Kriel, helped him successfully apply for funding through the DRDLR's recapitalisation programme. This enabled him to plant a maize crop in the 2015/2016 season.
Since joining the development programme, Thulo has also completed a number of courses, including an introduction to maize production, farming for profit, and business ethics.
He is currently being mentored by Bothaville grain producer, Christiaan Bouwer, who has assisted him with the business aspects of farming, such as inputs, profits and financial management.
"He's helped me understand how agribusinesses work and how I need to conduct business with these concerns," says Thulo.
The greatest challenge Thulo faces is that he does not own Swartlaagte. Without the title deed, it is very difficult to obtain financing.
Thulo thus improves his cash flow by conducting Monsanto seed trials on his land.
"Thulo's strict financial management is commendable," says Christiaan.
"This makes it possible for him to continue maize production out of his own pocket, so to speak."
Christiaan and Thulo draw up a cash flow chart annually, and Thulo rigorously adheres to this. The chart includes a monthly salary for Thulo. They also plan for unforeseen eventualities, such as drought. For example, Thulo hedged his maize crop prices during the 2015/2016 drought.
Insuring the maize against hail damage also turned out to be a wise decision, and resulted in a 60% payout.
Thulo's farming business includes a livestock component comprising 45 Simbra-type beef cattle, as well as 200 Mutton Merinos.
According to Thulo, this provided for him and his family when he did not have the funds to plant maize. Frikkie had taught him to manage grazing to ensure food for the livestock, and he is careful to prevent overgrazing.
"It's crucial that farmers have a backup plan, such as cattle, for difficult times," says Thulo.
Improved practices
To ensure long-term sustainability and profitability, Thulo and Christiaan have introduced a number of measures.
Amongst these are precision planting practices to ensure finer depth control and more accurate spacing. The results of this should be evident in Thulo's next maize crop.
Fertilisation is also worked out with great accuracy. The land is grid-mapped to ensure effective fertiliser application.
READ Litchis & avos: using precision farming to improve yields
A fertilisation programme is worked out in conjunction with Greenlands Fertilizers. This season, it consisted of a standard nitrogen (N), phosphorus (P) and potassium (K) fertiliser mixture, Greenland 15:8:4, with added calcium, magnesium and zinc applied at 200kg/ha, followed by 150kg/ha LAN (limestone ammonium nitrate).
Swartlaagte consists mainly of Avalon soils, and has an average annual rainfall of 550mm. Before planting, Thulo begins by disking, chisel ploughing and applying herbicide. He then plants maize seed at an interrow spacing of 1,5m.
Agrochemical supplier, Nulandis, assists with a customised chemical herbicide programme.
"One of the secrets of maize production is to keep the lands clean," says Thulo.
"Uncontrolled weeds use up a lot of valuable moisture in the soil."
Roundup is applied as soon as the plants emerge, and is also applied at the two- and four-leaf stages.
Thulo works on a break-even yield of 3t/ha, but realised an average yield of 5,5t/ha in the 2016/2017 season.
He uses Monsanto's DKC 78-45, DKC 78-79 and DKC 78-55R maize cultivars, and finds these reliable, hardy and drought-tolerant. He plants 80% of his lands to DKC 78-45 due to its drought- and heat-tolerance, high yield potential because of multiple cobs, and resistance to stalk borers.
He makes use of contractors for harvesting, and delivers the maize to the nearby Schuttesdraai and Allanridge silos.
Mentorship guidelines
According to GSA's Johan Kriel, one of the main reasons for the successful relationship between Thulo and Christiaan is the fact that they adhere strictly to GSA's mentorship regulations.
These state, amongst others, that the mentor is not permitted to do any work for the farmer being mentored. Neither is any business transaction between the two parties allowed.
Thulo's daughter, Doreen, has also contributed to his success by helping in the business, and is being trained to take over the operation one day. For now, she is simply delighted at what they have achieved so far.
"The fact that my father is the 2017 New Era Farmer of the Year is like a dream come true for us," she says.
Phone Thulo Mahlatsi on 073 2586 044.