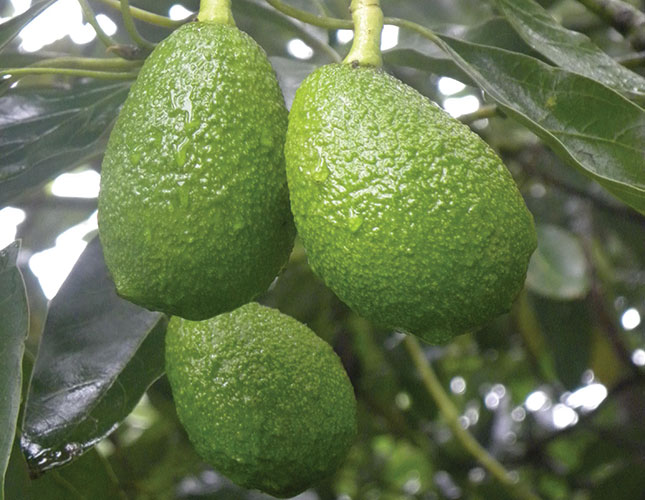 The latest statistics from the South African Subtropical Growers' Association (Subtrop) show that there are 340 avocado farmers and 100 litchi farmers in South Africa.
This is according to Stephan Schoeman, owner of Soetkalmoes Consultation, an advisory service for the subtropical tree crop industry.
READ The guardians of South Africa's export fruit quality
He adds that there are 17 500ha of avocados and 1 100ha of litchis under production. Avocados are grown mostly in Limpopo and Mpumalanga, while litchis are grown mostly in Tzaneen in Limpopo; Malelane, Komatipoort and Nelspruit in Mpumalanga; and northern KwaZulu-Natal.
Schoeman, who holds an MSc in Agriculture, says the avocado industry contributed R1,8 billion to South Africa's GDP in 2016/2017, with litchi production adding R120 million more.
Orchard management practices
"Precision farming methods are new to litchi and avocado producers, and many of the challenges that litchi and avocado growers face are the result of how we planned and planted orchards years ago," he says.
Today, precision farming tools and techniques enable farmers to better address a range of pre- and post-planting aspects. These include soil preparation, long-term oxygen management, risk mitigation strategies, and disease prevention.
The effects of the Phytophthora fungus, for example, can be mitigated if soil compaction and low oxygen levels are addressed. Research has shown that Phytophthora is a symptom of low oxygen levels in the soil, which could be the result of compaction, soil crusting, water logging, drainage problems, or poor irrigation scheduling.
Such challenges, says Schoeman, must be addressed during the field preparation stage.
Avocado quality
Avocado production expansion in South Africa is limited by tree availability, but plantings are nonetheless expanding by about 1 000ha per year. Precision farming techniques promise even more impressive results.
READ Growing avocados
"When you look at old avocado orchards, there are gaps between trees [where trees have died]. A 10% gap means less marketable fruit and there's a gap in profits as well. Soil preparation wasn't always done correctly, and not enough money was spent on drainage in the pre-planting phase," says Schoeman.
Recent years have seen a renewed emphasis on soil improvement. Farmers are also looking at water usage and how pruning affects yield, quality and productivity.
Irrigation and soil nutrition
"Today, farms and irrigation blocks are established differently," explains Schoeman. "We now know that irrigation blocks don't have to be perfect squares.
In other words, they don't have to be forced into designs that ignore soil types, among other factors, which makes for inefficient water and fertiliser use.
READ The benefits of planned and measured irrigation
"When soils are properly mapped and characterised, management blocks can be set up using soil characteristics as a starting point. And if we have a management block that can cater for specific soil character, soil depth, fertility, and cultivar, among others, we can precision-manage that block optimally."
Simpler, centralised irrigation management, dedicated main lines, and the installation of drainage in marginal soils also make a difference to quality and yield. "If planned well, it could be done from a central position, making automation simple."
Ripening
The vast majority of avocados are exported, taking weeks to reach their destination. Post-harvest quality and shelf life are therefore critical. In addition, the fruit is often sold ripe and ready.
All of this means avocados are a very different crop from that of 30 years ago, and farmers need to understand how soil nutrition affects ripening in the fruit. Marketers in particular need to predict the pace of ripening.
Ongoing research by Dr Frans Kruger and colleagues at Lowveld Post-harvest Services has shown that cold damage in the field and during storage could be nutrient-related, with nitrogen (N) playing an important role. Reactions between potassium (K), calcium (Ca) and N also affect quality.
"A farmer can increase the quality and quantity of avocados by fertilising for specific nutrient deficiencies, managing the crop, ensuring proper light management and treating Phytophthora timeously and efficiently," says Schoeman.
Potassium contributes to higher yield and better quality fruit, so, despite the expense, farmers should look at increasing soil K levels by between 5% and 7%.
Mulching and compost are also important. Ideally, tree crop growers should use a compost of woody material, as wood is broken down mainly by fungi. This type of compost and its living constituents supply nutrients that can be readily accessed by the trees, as well as help them fight disease.
When applying compost, farmers should monitor the phosphate level, as an excess can restrict uptake of other nutrients and interfere with nutrient activity within plants.
"Most advisors place a high value on annual leaf and soil analyses, with fruit nutrition levels monitored during the season," explains Schoeman.
Fertiliser is applied mostly from August to December, but some N is applied after late rain to build tree reserve levels. Another critical application time is in April, when the first flower buds appear.
Circumstances differ, but up to 50% of annual fertiliser is normally applied at this time, whether or not harvest is completed.
"Out-of-season fruit must be managed well as they draw reserves from trees, and different varieties need to be treated differently," cautions Schoeman. Pinkerton, for example, requires more Ca than other varieties, and Hass needs N earlier.
Some of the newer-generation varieties require a different approach to nutrition management, as high-yielding varieties may go into alternative bearing cycles and use up their reserves in one season, leading to a low follow-up crop.
Pruning techniques are also a factor. Correct pruning enables sunlight to penetrate properly, contributing to tree vigour, and fruit quality and shape.
Litchi production
Until recently, litchis were regarded as a wild crop (not under agricultural management), because the trees are prone to alternate bearing, with crops harvested at irregular intervals.
READ Starting off with litchis
Email Stephan Schoeman at [email protected].