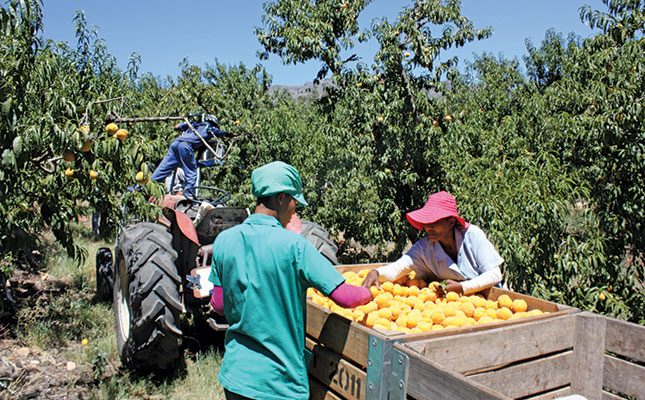 You joined Hortfin at the beginning of this year. What did you do before then?
My father used to be a farmworker at a fruit tree nursery in Groot Drakenstein, so I basically grew up in the industry, working most of my school holidays on the farm. The experience gave me a passion for agriculture and also a yearning to empower people in the industry.
After school, I completed a horticultural diploma at what is now known as the Cape Peninsula University of Technology (CPUT), after which I upgraded to a BTech degree. I later obtained a master's degree in agricultural systems management at Stellenbosch University while lecturing at CPUT.
Career-wise, I spent almost 10 years at Kaap Agri and another four-and-a-half years as the CEO of Casidra, which renders project management services to Western Cape government departments.
Tell us more about Hortfin.
Hortfin is a R600-million, blended funding scheme initiated by the South African deciduous fruit industry with support from the Western Cape Department of Agriculture, and co-funded by National Treasury's Jobs Fund and the Land Bank.
It aims to provide innovative and comprehensive financing and support systems in a manner that promotes job creation, transformation and sustainability within the deciduous fruit, table grape and wine industries.
What is each party's contribution or role in the fund?
Treasury gave R200 million via its Jobs Fund, matched by R300 million from the Land Bank and R100 million from the deciduous fruit, table grape and wine industries.
Hortfin, under leadership of a board of directors representing various stakeholders, will evaluate and approve projects, while the Land Bank will manage the loan book.
How did the fund originate?
It basically developed out of industry partnerships that include the agriculture department's 'commodity approach', where the department works with other agricultural organisations to address industry-related issues.
By pooling resources, such as funding and expertise, the commodity approach allows the industry as a whole to better strategise interventions, avoid duplication of services, and ultimately get better returns on investments than when programmes are run separately.
The first major spin-off from the commodity approach for the deciduous fruit industry was the Boompie Project, initiated in 2007. It resulted in the establishment of 400ha of pome and stone fruit orchards for emerging farmers in the Western Cape and Eastern Cape.
The success of this project paved the way for the Jobs Fund initiative, where Treasury granted R60 million, matched by R40 million from the agriculture department and R20 million from Hortgro, to promote smallholder farmers to commercial status through establishing 316ha of stone and pome fruit trees over a three-year period, which ends this year.
The Jobs Fund initiative has created over 1 000 permanent, temporary and seasonal jobs and helped to establish faith in Hortgro and the industry's ability to implement the Hortfin Fund.
How does the Hortfin fund differ from loans offered by banks?
Hortfin can accommodate clients who have a higher risk and relatively less security than commercial banks because the structures we have in place ensure a good return on investment. People rejected by other institutions might therefore get helped by us.
Having blended funding gives us much more leeway to play with terms, so we can better match finance products with the repayment potential of clients and offer better interest rates, ranging from prime minus two to prime plus one.
To ensure the financial viability of a project, Hortfin may be involved with the conceptualisation of an application and also offer post-disbursement programmes. We offer access to consultants and industry experts to train, support and empower our clients.
What are the requirements to access the funding?
Because job creation and transformation are our main goals, loans will be granted only to those projects that have positive employment spin-offs, and projects where at least 51% of a company has black ownership. Our goal is to create about 1 700 permanent, seasonal or temporary jobs over the next three years.
Besides this, the business or project needs to be financially viable. The fund is geared towards assisting projects with positive repayments to create a revolving loan book that will allow us to continue for many years to come.
What type of projects will qualify?
We welcome any on-farm initiative that helps to expand production and, in effect, create new jobs, such as the establishment of new orchards or the construction of dams, as well as projects that add value to production higher up in the value chain, for example the establishment of packing facilities.
We anticipate that about 60% of the funding will go toward primary agricultural players and 40% toward value chain growth.
Have you received many applications?
We've received 13 applications to date, of which three are in the second phase of evaluation. During this phase, a due diligence study is conducted to determine the income potential of a project. These first three projects will essentially serve as pilots to help us identify areas in the process that still need to be refined.
Tell us about some failed applications.
There's a misconception that the funding can be used to buy land, which it cannot, unless the land will create new employment opportunities. A loan won't be approved if, for example, a farmer applies for a R10- million loan to buy a farm worth R8 million.
There'll be too little money left to initiate production and in the process create the required new jobs.
Applying for money to buy a stake in an existing commercial farm is also not going to create new jobs.
What is the greatest challenge with this type of funding?
Agricultural production is extremely time-sensitive, so interventions need to be streamlined to ensure that an applicant benefits from funding at the right time.
Failure to plant in a particular season means it will take a year longer before a farmer reaps any benefit from a loan.
We'll therefore work closely with various government departments to prevent any delays; for example, when it comes to the issuing of water rights or environmental impact assessments, or licences of any nature.
What are your plans for the future?
I've already started talks with private and investment companies to leverage more funding. They are generally eager to become involved because of the success we reached with previous initiatives, as well as growing pressure to comply with BEE or corporate social investment targets.
Some commercial farmers seem hesitant to become involved, probably because of uncertainty created by topics such as land expropriation without compensation. But many others have already done great things to empower their workers in the past, so I think we'll see a greater propensity for involvement once the election is over.
I'm also in talks with other commodity houses to expand the scope of the fund to other industries. We've created a system with the components that will make it work, so it makes sense for them to join us instead of reinventing the wheel.
Email Michael Brinkhuis at [email protected], or visit hortfin.com.