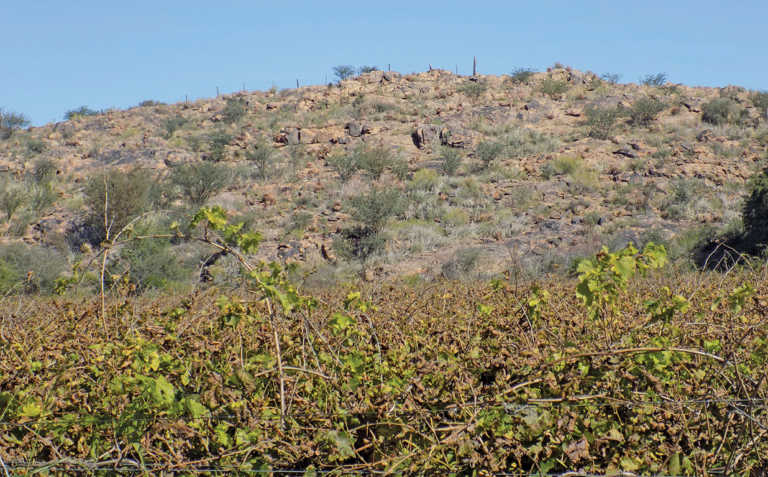 The Eksteenskuil Agricultural Co-operative (EAC) website describes Eksteenskuil as "a rural Coloured community" settled in the lower Orange River valley near Keimoes, 45km from Upington in the Northern Cape.
The main crops grown are raisins and pecan nuts.
The EAC was registered in 2007 and now consists of 110 members, including farmers from nearby Loxtonvale and Realeboga.
READ Working to improve market access for black citrus farmers
It endeavours to provide members with the necessary management skills and viticulture and financial know-how to become self-sustaining and profitable farmers.
The EAC also seeks to lobby for market access for its members.
"We've worked hard to build strong and trusting relationships with our members, business partners and other stakeholders," says EAC member Llewellyn Adams.
The first families settled at Eksteenskuil in the 1920s, and were followed by more families in the mid-1950s. The white Empowermentfarmers in the area were resettled elsewhere by government.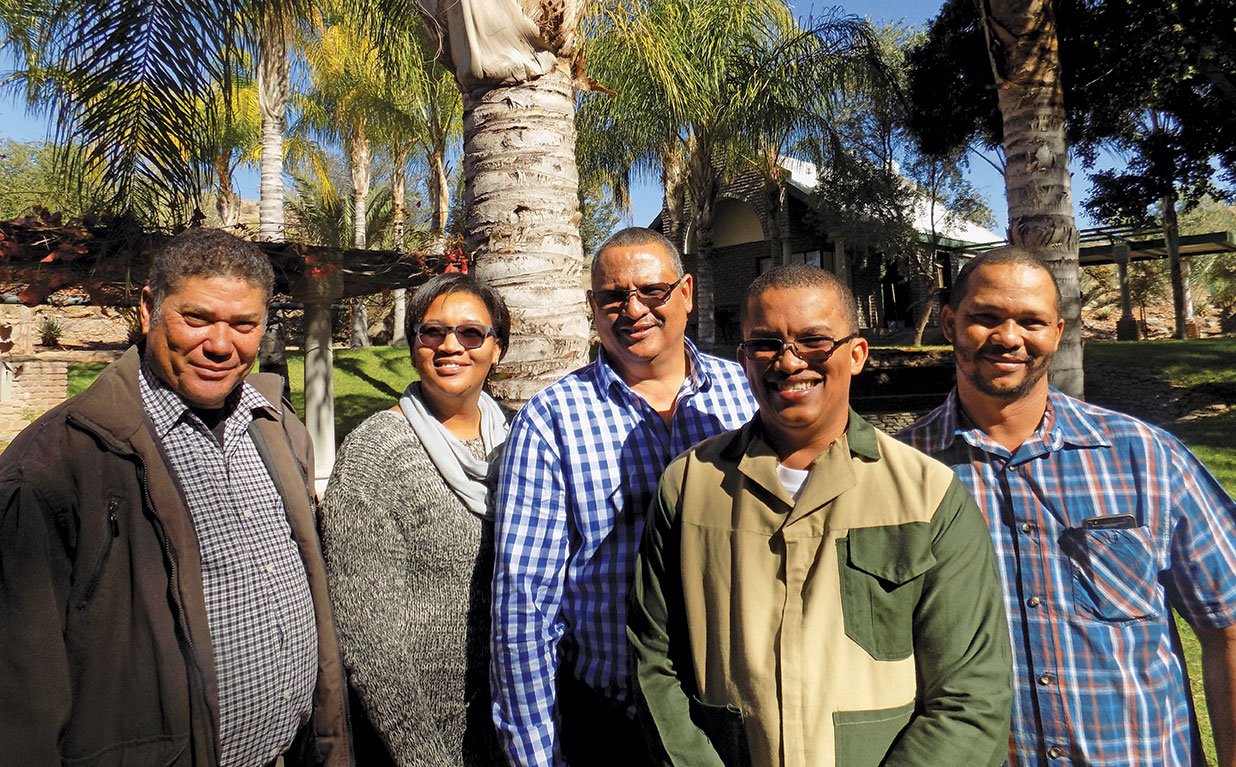 Today, Eksteenskuil comprises about 2 000ha, of which 600ha are irrigated from the Orange River.
The area suited to irrigation was initially made up of some 200 small plots; these have since been merged into 147 plots of 3,8ha each.
Raisins vs Pecans
Many of the plots in Eksteenskuil are too small for grape production, and pecan nuts will soon be a valuable alternative. The pecan trees have yet to come into full production, however, so raisins currently form the mainstay of the co-op.
The farmers had realised a harvest of about 1 200t of choice-grade raisins at the time of Farmer's Weekly's visit in May. A total harvest of 2 200t is expected.
READ Growing pecan nuts: cultivars, soil prep & planting
About 890t were delivered to Red Sun Raisins in May, compared with 524t at the same time last year.
Cultivars include Thompson Seedless, Merbein Seedless, Diamond Muscat, Selma Pete and Summer Muscat, with the last three being new to the region.
The first plantings of these cultivars took place between 2014 and 2017 and the first full harvest was reaped this year.
Frost, hail, soil acidification, and rain during harvest time are some of the challenges faced by Eksteenskuil's farmers. Rain during harvest time, for example, results in poor grades, which affects profits.
"The good news is that the new cultivars are less susceptible to these challenges," explains Adams.
"Selma Pete, for instance, still yielded choice-grade raisins after 100mm of rain."
The new cultivars also enable farmers to stagger the harvest over a longer period. This relieves the pressure on drying facilities at peak times.
Getting a good deal
The EAC has been Fairtrade-accredited since 1995, and its raisins are marketed through Red Sun Raisins and Pioneer Foods. Thanks to Fairtrade, the EAC's international processing partners include German snack food company Intersnack and Trade Aid in the UK.
"We've worked closely with Red Sun to access new markets and develop EAC-branded packaging," says EAC member Desiree Adams.
"The EAC and Red Sun are working towards special co-branding, which we hope to take to new markets."
The Fairtrade movement ensures that producers are paid a stipulated minimum (the 'Fairtrade price') for their commodities. Over and above this, buyers have to pay the Fairtrade premium, which goes into a communal fund to help growers improve their social, economic and environmental conditions.
The EAC has used this funding to train its members and build up a pool of agricultural equipment that is shared by them.
Nuts about pecans
EAC's farmers planted their first pecan trees in 2015 on land too small for vineyards and in rock-strewn areas and other stretches of wasteland. They were assisted in this by the South African Pecan Association.
Fifteen co-op members subsequently formed the Grootoog Pecan Nut Producers' Group.
Two cultivars, namely Wichita and Western Nevo, form the bulk of the pecan plantings. The former are medium-sized, have an attractive appearance and produce a high kernel percentage.
The latter are also medium-sized, and have a thin shell and good kernel quality.
Between them, the farmers have planted 18,6ha to pecans so far, and the first full harvest is expected in 2021.
The price of choice-grade pecan nuts hovered around R85/kg in the second half of May this year.
Cash crop
Lucerne is planted as a cash crop between the rows of pecan trees to augment income until the trees reach full production, explains EAC member Donovan Smith. It is cut every three to four weeks, and yields an average of 3t/ ha to 4t/ ha. This amounts to about 109 bales/ha, and the bales are sold at R60 each.
Training
The EAC places a high premium on training and development, and has been working closely with the Agricultural Research Council's Infrutec Nietvoorbij Institute in this respect since 1997.
The institute provides training and technology transfer over the entire value chain of grape production through farmers' days and workshops. Experts from other institutions such as Vinpro, Nulandis and Absa, as well as Stellenbosch University and the University of the Free State, have also been involved in training.
"All of our members have received training funded by AgriSeta. Indeed, a number of them have accumulated enough credits to qualify for matric," says EAC member Mervin Schwartz.
Lorna Basson, Red Sun Raisin's technical division representative, says that EAC members make up 35% of their producer list. In 2018, the co-op produced 8,4% of the company's total raisin intake.
Red Sun offers farmer courses on fertilisation, pruning and the certification of drying facilities. The correct construction and management of drying facilities is important in the production of export raisins.
The company has also helped 14 EAC farmers to have their facilities officially certified by the South African Perishable Products Export Control Board (PPECB). All raisin-drying facilities must be officially certified by the PPECB by 2020.
Lack of title deeds
According to Schwartz, one of the greatest hurdles faced by the EAC is the fact that about 30 of its members have not yet received title deeds to their land.
This makes it difficult for them to expand and invest in their businesses, as financing is virtually impossible to obtain without title deeds.
READ Private land reform initiatives are paying off
Problems have also been experienced in the transfer of title deeds.
Smith's father died in 2013, but the title deeds to his land have still not been transferred to him as the rightful heir.
"My business consists of 11ha that are available for irrigation, but I'm using only 8ha at the moment," he says. "I've also planted 5ha to pecan nuts. But I'm not eligible for financing, even from the Land Bank, because the title deeds are not in my name."
Email Desiree Adams at [email protected], or visit eksteenskuil.co.za.