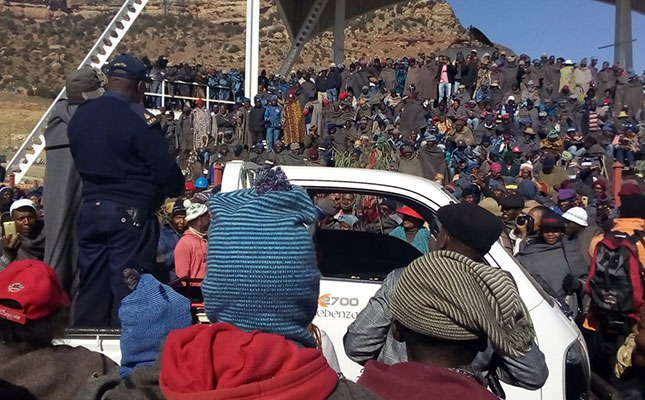 Several thousand Lesotho wool and mohair farmers gathered in the capital Maseru on Friday to march to the country's parliament to hand over a memorandum.
Industry sources estimated that the number of marchers had reached around 10 000 by noon.
The march, which was organised in early June, proceeded despite an announcement by Prime Minister Tom Thabane on 26 June that a three-month "grace period" on the regulations that prohibited farmers from exporting their wool to South Africa, would come in force.
These regulations were first introduced by the Lesotho government in mid-2018, and stipulated that the exporting of wool to South Africa would only be permitted if necessary permits were obtained.
According to reports, Thabane said while briefing the media: "While we wait [for] the wool and mohair brokers to get established, the government has made a resolution to allow those who are in possession of their products to trade with whomever they wish, whether in or outside the country, for the next three months, [which can be] considered a grace period."
Moshoeshoe said the march went ahead as this temporary lift on restrictions would not benefit farmers.
Khotsang Moshoeshoe, a representative of the Lesotho National Wool and Mohair Growers' Association, said thousands of wool growers were still struggling to secure payment for their produce through the new state-sanctioned trading channels, which forced growers to sell their wool to a Chinese broker.
"It is a technical move and will not help the wool farmer on the ground in any way," he said.
He explained that in the memorandum they asked that the regulations be repealed in totality.
In a written statement, Mokoenihi Thinyane, chairperson of the Lesotho National Wool and Mohair Growers' Association, said: "We have also stated to the speaker of the national assembly that the situation on the ground is very disturbing, [with] some of our members [dying from] heart attacks, [and suffering] depression, [and] strokes."
According to recent media reports, Prince Seeiso Bereng Seeiso of Lesotho, the younger brother of King Letsie III, said that some wool farmers had committed suicide, while others were suffering from depression, due to the situation.