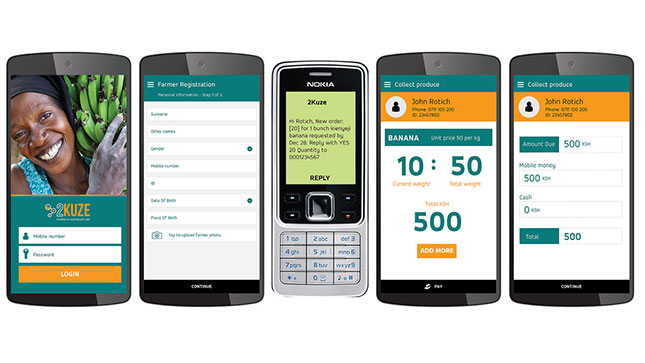 2KUZE, which means "let's grow together," in Swahili, allows farmers to buy, sell and receive payments for agricultural goods using the 2KUZE app on their mobile phones. The initiative is aimed at farmers in Kenya, Uganda and Tanzania.
Daniel Monehin, Division President for Sub-Saharan Africa and head of Financial Inclusion for International Markets at Mastercard, told Farmer's Weekly that agents were responsible for registering buyers and farmers on the secure 2KUZE platform.
"Farmers can get registered on 2Kuze by providing simple details such as name and location of their farm. Farmers are able to join groups based on the produce they grow, said Monehin.
"The buyer makes an order on the 2KUZE app, and an SMS is sent to all the farmers with the [details of the requested] product. The farmer with the [relevant] product will respond to the agent via SMS, indicating what they can contribute to the order," said Monehin.
"When the product is ready, the agent goes to the farmer and weighs the produce on a digital scale connected by Bluetooth to 2Kuze, [before delivering] the product to the buyer. The agents make payments to the farmer through mobile money on the app," he added.
2KUZE was developed at the Mastercard Lab for Financial Inclusion in Nairobi in 2015and was funded by Bill and Melinda Gates Foundation.
The 2KUZE pilot was launched in partnership with Cafédirect Producers Foundation, a non-profit organisation that works with 300 000 smallholder farmers globally.  As of mid-December, 2000 small-scale farmers in Nandi Hills, Kenya, are currently using the app to sell their produce, according to the press release.
Monehin added that the pilot phase is ongoing and the aim is to implement 2KUZE long-term in all three markets [Kenya, Uganda and Tanzania].
"Currently we are focused on the demand-side of the agricultural marketplace, after the pilot, the focus will be on scaling 2Kuze to more farmers, multiple geographies, multiple payment options and new partners," said Monehin.
"We are also actively looking into the supply-side of the marketplace and looking to create an environment where farmers can post details on their produce that buyers can view and bid on. This can facilitate group selling, open bidding, savings group, improvements in cash management."