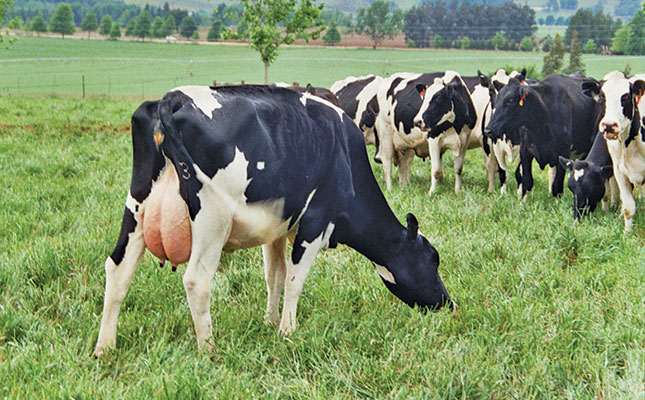 This was according to Asaah Ndambi, senior international animal production specialist at the Wageningen University and Research Centre (Wageningen) in the Netherlands. Ndambi was speaking at the 13th Africa Dairy Conference and Exhibition recently held in Johannesburg.
Ndambi explained that improving farm productivity was the best way to mitigate dairy sector GHG emissions.
In 2015 and 2017, Theun Vellinga, senior reseacher at Wageningen's Livestock Research Institute, conducted a study to assess cost-effective interventions that could increase production, while decreasing GHGs in Ethiopia.
It was found that most GHG emissions were caused by feed production and enteric fermentation. The study then calculated the effect of multiple cost-efficient interventions.
"Emissions vary along the chain depending on production intensity; about 60% of on-farm emissions are from enteric fermentation. Feed production [also] contributes greatly to dairy emissions, [with] manure also an important contributor," Ndambi said.
Climate-smart dairy production was crucial in the effort to reduce GHG emissions.
"[Climate-smart dairy production involves] reducing the number of animals and remaining productive by managing herds properly by replacing oxen and unproductive female animals, increasing crossbreeding through improved artificial insemination and reducing milk losses in post farm-gate stages," Ndambi explained.
Moreover, improving manure management by promoting animal manure as fertiliser, as well as promoting the sale of manure as a fertiliser for use on urban and peri-urban farms, prevented the accumulation of manure, and also assisted in limiting GHG emissions.
Farmers could also adapt their operations by increasing system resilience through enhancing production systems; for example, implementing effective water capturing methods, irrigation, herd management, sequential cropping, genetic improvement, and manure management.
"Expanding the activities on the farm, such as mixed farming and cropping, and exploring other possibilities outside the farm, such as ecotourism, feed production, and biogas production, [can help in reducing GHG emissions]" Ndambi said.