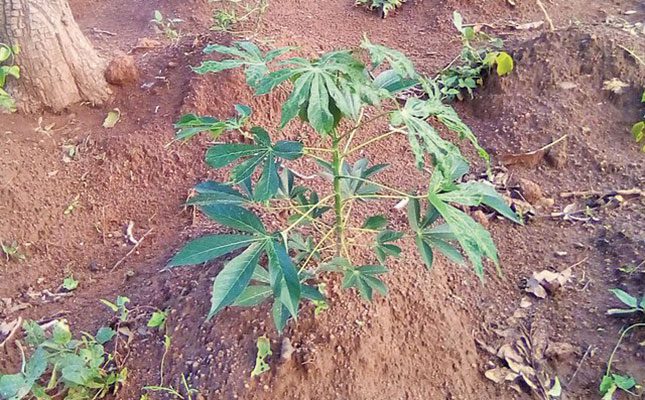 Authorities in Zambia are working to contain a damaging outbreak of root rot disease that could lead to shortages of a key food staple for the majority of households in the country.
Over the past few years, root rot or cassava brown streak virus disease (CBSD) has affected north-eastern Zambia (Luapula Province) near the Democratic Republic of the Congo.
Recently, it spread to the north-western parts of Zambia, which adjoin the border with Angola and Namibia.
The disease outbreak threatens food security for more than five million people, according to local authorities.
It is being fuelled by the cassava mosaic virus (CMV) which is transmitted by whitefly (Bemisia tabaci) and primarily infects cassava plants.
Because cassava is vegetatively propagated, it is particularly vulnerable to viruses. CMV is present in all cassava-growing areas, and has resulted in yield losses of between 50% and 70% countrywide.
Rotting crops
Mwansabombwe District MP Kabaso Kampampi expressed regret at the escalating cases of the disease, which has affected more than 10 000ha, leaving many households under threat of hunger after the 2022/23 season.
"Most of our farmers have lost out because much of the crop is rotting and will not be harvested this year, and that means they will need relief food," he said.
Luapula faces a similar fate, with more than 3 000ha affected by the disease.
Luapula MP Katotobwe Chanda said: "We're hoping a quick solution will be found to reduce the damage, otherwise most farmers will have nothing to show after the 2022/23 season."
Zambia National Cassava Association chairperson Brighton Mulongo said the damage done by CBSD spurred on by CMD, not to mention the looming food insecurity, would only be mitigated by collaboration among various players.
Minister of agriculture Mtolo Phiri said the government was "looking at various strategies to stop the disease and we have formed task groups".
The UN's Food and Agriculture Organization (FAO) and other groups are working with the Zambian government to mitigate the spread of CBSD and CMD, starting with districts in Luapula before moving on to other parts of the country.
Green Mbozi, director of agribusiness and marketing at Zambia's Ministry of Agriculture and Cooperatives, underscored the importance of cassava to national food security.
Technical expertise
The Technical Cooperation Programme (TCP), which was created to enable the FAO to make its know-how and technical expertise available to member countries upon request, will strive to complement government's efforts in reducing the effects and spread of CBSD and CMD.
The TCP will seek to build partnerships and create links with the communities and other key players within the cassava value chain.
Mbozi commended the FAO for the support rendered by the TCP.
"We appreciate FAO's support and partnership in transforming different agricultural value chains in the country, cassava included," he said.
FAO country representative Suze-Percy Filippini praised the Zambia Agricultural Research Institute for noting the seriousness of the damage caused to cassava crop production by CBSD and CMD.
"The outbreak of cassava disease in Kaputa and Chiengi districts has become a source of concern. "The disease causes serious food insecurity for smallholder farmers, which does not sit well with the FAO's aspiration for better nutrition and better life," Filippini said.
Ethanol
In addition to its being a food staple, cassava is also used to make ethanol. More than 25 000 farmers under Musika, a non-profit company with a mandate to stimulate and support private investment in Zambia's agricultural market, are now growing drought-tolerant varieties of cassava, compared with 5 000 five years ago.
Currently, 250t of cassava flour a day is being turned into ethanol for hand sanitisers and other products sold locally or exported to neighbouring countries, according to Pamela Hamasaka, corporate affairs manager at Musika.
However, some critics have raised concerns over the excess use of food crops like cassava for industrial purposes, saying this threatens the region's food security.
According to research conducted by Zambia's Ministry of Agriculture and Cooperatives, the country's cassava output has risen by an average of 6% over the past five years and is poised to more than treble as demand by commercial users increases.