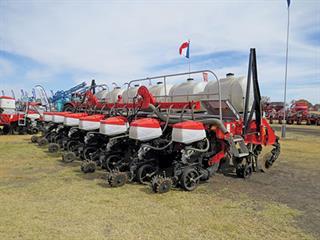 Most farmers strive to make certain that cropping systems are perfectly suited to their soil type, cultivation regime, fertilisation needs and seasonal weather patterns. The aim, obviously, is to obtain the most productivity and profitability from the crop. To assist them, implement manufacturers offer a variety of specifications and modifications to their basic equipment. Farmers even make their own adaptations to accommodate their specific needs.
One of these on show at Nampo was a liquid fertiliser from the Rhys Evans Group. Crop specialists at the company chose the Jumil Guera 7090PD 12-row planter, supplied by Crop-Tech, for the system, as the Jumil's seeding system suited the company's need for precision planting with variable rate control. They then modified the Jumil to dispense liquid fertiliser, using a control system that ensures a variable application rate.
The Jumil is used to plant maize, sunflower and soya bean on the group's farms in the Viljoenskroon district, and was loaned to Crop-Tech for display at Nampo. The Piket no-till drill is fitted with individually sprung cutting coulters ahead of each double-disc opener unit to cut the trash. This prevents blocking and performs a light tillage operation ahead of the seed furrow openers. It offers excellent depth control and seed-to-soil contact. Depth control is maintained by single rubber press wheels, which firm the soil around the seed.
The drill can plant into established pastures and plant fine seeds (lucerne, teff, medics and canola), as well as larger seeds (wheat, oats and soya bean).