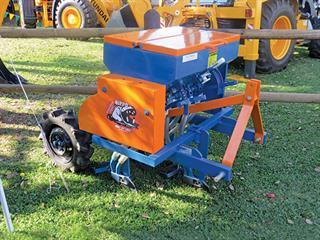 The Royal Show at Pietermaritzburg attracts farmers involved in all levels of agriculture – from owners and managers of huge estates to youngsters just starting out. They were certainly not disappointed by the equipment on display. Here are some of the highlights:
Kubota BX25D loader-backhoe
This is powered by a Kubota D902 3-cylinder engine rated at 17,2kW and with a two-speed range hydrostatic transmission. The 1 200mm-wide loader bucket has a lifting capacity of 235kg and the backhoe can dig down to 1,84m and load at 1,53m.
Wolagri R 500 Super
With a rotary feeder and an 800mm wide pick-up, the Wolagri R 500 Super makes a bale 630mm wide and 570mm in diameter. It should be popular with smallholders and horse owners who need smaller, easy-to-handle bales.
John Deere 1010 two-row planter
Features include double-disc openers and plant depth controlled by the press wheels. Row spacing: 660mm, 750mm, 800mm, 850mm, 910mm and 1 000mm. Seed hopper capacity: 40l. Fertiliser hopper: 70l each.
Hippo no-till planter
This three-row model with 350mm to 450mm spacing is a new approach by manufacturers, ABC – and it's proving to be highly successful at pasture re-seeding. The centre unit can be removed for no-till maize planting at a 900mm row spacing.
Hippo mill
First introduced by Arthur Collins in Pietermaritzburg in 1928, and currently manufactured by ABC, the mill has a unique design: there are no chopping knives. Instead, the material is fed directly on to the tips of the rotating hammers. The rigid beater centres, each with a replaceable tip, make up the rotor and the screen at the bottom covers an arc of 180°.  A separate four-blade fan blows the milled material to the cyclone and bagging attachment. The smallest in the range, the Baby, is driven by a 4kW diesel engine and has a capacity of 200kg/h through a 1,6mm screen.
Jumil 2090H planter
The 1,8m toolbar can accommodate two rows (900mm or 1 000mm spacing) or three rows (550mm, 600mm or 700mm spacings). Worm drive fertiliser bin capacity: 50l each. Seed bins: 39l. Fertiliser output: adjustable from 100kg/ ha to 1 000kg/ha.