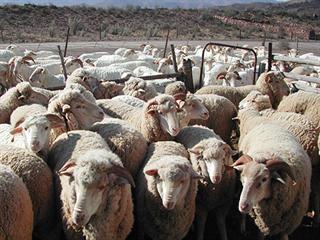 "This represents a 15,1% increase on the opening sale and is up 6,8% on the corresponding sale last year," said Lizelle Delport of Cape Wools. "There was solid demand from the various sectors of the trade and 96% of the offering of 8 011 bales was cleared to the trade.
The small offering may have supported the current price levels. The rand was relatively unchanged at R10,32."
Prices were a mixed bag, but the stronger wools posted the greatest increases.
According to CMW's James de Jager some buyers were eager to complete pre-Christmas orders for shipment, while others evaluated their stock position for January to March delivery next year.
"The US economy, the world's largest, grew better than expected in the third quarter. This may result in an increase in demand for luxury goods, such as wool. At this sale, however, good medium and long-wool of 21 microns and finer which remained unchanged, while short-wool, as well as inferior and cross-breed wool sold just slightly cheaper," said De Jager.
Perdeberg Boerdery from Trompsburg received R115/kg for a BFF lot of 16,2 microns, which was purchased by New England Wool. "The wool came from a clip that was protected by sheep jackets," noted De Jager.
The average clean prices for the different categories good top-making (MF5), long fleeces were as follows: 18 microns, up 1% to R129,26/kg; 18,5 microns, down 0,3% to R125,95/kg; 19 microns, up 0,1% to R123,45/kg; 19,5 microns, up 0,6% to close at R121,10/kg; 21 microns, up by 2,6% to R119,91/kg; 21.5 microns, up 2,9% to R119,69/kg; and 22 microns, down 1% at R116,09/kg.
Major buyers were Lempriere (2 626), Standard Wool (2 229) and Modiano (1 375).
Sales will resume on 15 January.