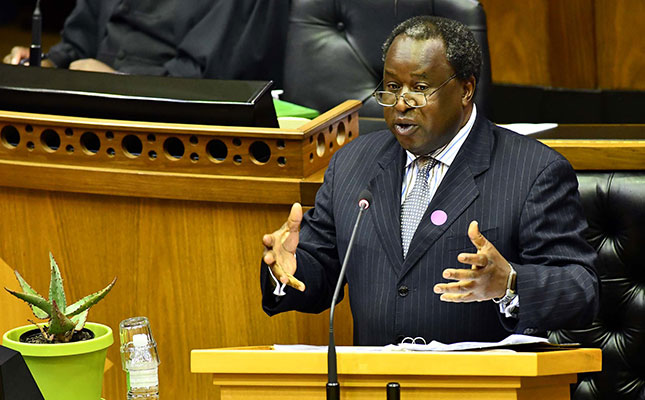 The budget allocated to the Department of Agriculture, Land Reform and Rural Development (agriculture department), which was tabled as part of the National Budget by Minister of Finance, Tito Mboweni in Parliament today (24 February) will require spending cuts on several cost lines and programmes.
However, despite a below inflation increase in expected expenditure over the next three years, the agriculture department has outlined some ambitious targets in detailed spending plans published in the Estimates of National Expenditure document.
According to the document, the department was "working on plans to reduce the ratio of extension officers to farmers from 1:850 to 1:250". This, it said, would be achieved by "recruiting approximately 10 000 extension officers across the country as part of its extension recovery services".
To this end, the document stated that R923,5 million had been allocated over the next three years via the comprehensive agricultural support programme grant.
However, at face value, this allocation might not be sufficient to cover remuneration for an additional 10 000 extension officers, given that the allocation of roughly R307 million per year over the next three years (down from R311 million in 2020/2021) showed an average reduction of 0,2% in spending over the period from 2020/2021 to 2023/2024.
Spending cuts by the agriculture department would also affect allocations to the National Rural Youth Service Corps.
#RSAbudget2021 #Budgetspeech2021 Mboweni: @DALRRDgov_ZA will receive an allocation of R16,9 billion for the 2021/22 fiscal year which amounted to less than 1% of consolidated government spending of R2,02 trillion.

— Farmer's Weekly SA (@FarmersWeeklySA) February 24, 2021
In addition, the agriculture department would have to cut back on compensation of employees, for which total expenditure was expected to decrease roughly R147 million over the next three years.
This was in line with national budget priorities, which according to the Budget Review, aimed to reduce main budget non-interest expenditure by R264,9 billion, or 4,6% cent of GDP, mainly through adjustments to government's wage bill.
The agriculture department would receive an allocation of R16,9 billion for the 2021/2022 fiscal year. Over the next two years this allocation would increase marginally by about 2,8% to R17,4 billion in 2023/24.
With total government expenditure set to amount to R2,02 trillion in the next year, the direct allocation to the agriculture department represented less than 1% of government spending.
Mboweni said in his budget speech that government planned to finalise 1 409 restitution claims at a cost of R9,3 billion over the next three years.
"The [agriculture department] has also set aside R896,7 million for post-settlement support. This will include the recruitment of approximately 10 000 experienced extension officers," he said.
Mboweni also announced an allocation of R7 billion for the Land Bank over the next three years to help to "resolve the bank's current default and re-establish the development and transformation mandate".