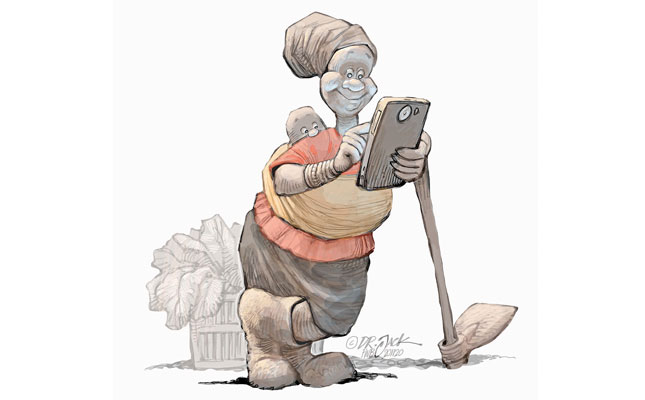 Digital technology is rapidly transforming all stages of the value chain, from the farm to the table. Its adoption is improving efficiency, creating new jobs, generating new income streams and saving resources.
Digital technology can help markets function better and improve farmers' access to them. Innovations such as food e-commerce can benefit farmers and consumers.
Digital technology can be disruptive, however, by modifying or displacing value chain activities and products. To guarantee that the dividends of digital innovation are shared with the poorest, we have to reduce the current digital divide.
At farm level, digital technology applications are helping to address market failures and facilitate the integration of farmers in value chains by driving down information and transaction costs.
Sensors, satellites, robots and drones, for example, are revolutionising farming and value chains. Sensors and satellites provide information on soil conditions, weather and temperature, and crop growth. They enable farmers to achieve better yield by optimising farm management, reducing the use of fertiliser, pesticide and water, and contributing to more sustainable outcomes. The Internet of Things, which connects robots, drones and vehicles via the Internet, is making labour-intensive tasks, such as monitoring plant health or sowing crops, more cost-effective.
Improvements in information and communications technology have also underpinned the development of global value chains, effectively linking farmers to traders and consumers across regions and countries.
The COVID-19 pandemic revealed the potential of digital technology in improving the functioning of food markets. Estimates suggest that in China the share of the online market increased from 11% to 38% of total food retail purchases in February 2020.
The digital divide
Despite the rapid diffusion of digital technology during the last three decades, a digital divide exists between countries, between urban and rural areas, and between men and women.
Technological innovation is crucial for economic growth. Once an innovation takes place, it is common for improvements to follow and for the innovation sometimes to be used differently than initially intended. In addition, innovation can take time to reach the markets at scale.
This is often due to the costs of technological adoption, but acceptance and familiarity also play a role, especially in the diffusion of more complex innovations.
Nowhere is the digital divide more evident than in agriculture. Commercial farms and businesses in developed countries and emerging economies already use technology intensively, while smallholder farmers in many developing countries struggle to gain access to information, markets and inputs.
It has been estimated that about 54% of the world's population used the Internet
in 2019. Internet access has spread rapidly, but gaps persist across countries and grow progressively as average income per capita decreases.
In rural Africa, on average, only 10% of households have access to the Internet. In order to include everyone in the digital economy, effective public-private partnerships, good regulations to attract the private sector, and policy coherence are needed to improve digital infrastructure and skills in the rural areas of developing countries.
Improving access to information
From text messages through mobile phones' Short Message Service (SMS) to e-commerce platforms and distributed ledger technologies, digital applications reduce transaction costs, improve the flow of information and promote efficient matching between farmers, traders and consumers.
This leads to increased market access and better results in terms of income and welfare. Digital platform initiatives, such as e-Choupal in India, Esoko in Africa and Taobao in China, demonstrate how digital technologies can improve the functioning of markets.
Esoko, which was launched in 2005, initially provided information on market prices by SMS to smallholder farmers in Ghana. Over the years, it has evolved into an Internet and mobile phone application that provides services to farmers through SMS, voice messages and call centres.
These include extension information messages, farmer surveys and SMS polls, marketplace matching, and data collection. The platform provides two-way communication and information flow between farmers and other value chain actors.
This has improved farmers' knowledge and their access to quality inputs, credit and formal markets. At present, Esoko operates in 10 countries in Africa and reportedly connects over one million farmers to essential services. Evidence indicates that farmers using its services have enjoyed a 10,5% rise in revenue, most likely through better information that resulted in increased bargaining power with traders.
Access to credit and insurance is also being revolutionised due to access to digital technology. Innovations in Earth observation, satellite rainfall estimations and remote sensing, combined with in situ data and blockchain technology, can support weather index-based insurance programmes at lower cost.
This has helped in reaching millions of smallholder farmers, many of whom were previously considered uninsurable.
Digital technology can also promote financial inclusion by enabling financial institutions to enter rural markets without establishing a costly physical presence.
E-commerce platforms are encouraging educated youth and women to remain in or return to rural areas; this can transform rural areas into more attractive places to live and work. Blockchain technology can build trust and promote transparency and thus increase the traceability of food throughout the value chain.
This can support the implementation of sustainability standards and labelling to provide information to consumers on the environmental and social dimensions of production. Notwithstanding all of the above, digital technology does entail risks and challenges.
For example, issues related to the ownership and use of data collected through digital technologies on-farm have raised great concern. Addressing these issues could promote digital technology adoption.
Some of the risks
Digital technology can empower all value chain actors, including smallholder farmers in developing countries, by reducing transaction costs and barriers to entry.
At the same time, it can exclude from markets those smallholder farmers who cannot afford the initial costs to become part of the digital economy or who lack the skills to do so.
Exclusion could add to the challenges already faced by smallholder farmers, and further undermine the livelihoods of millions of people living in rural areas of developing countries.
The risk of exclusion is particularly high for illiterate smallholder farmers. While some technologies may help foster inclusion of illiterate farmers, it is indispensable to redouble efforts to reach full literacy and ensure that all have the skills to use the Internet fully and effectively.
Technology also affects the factors of production and their value, such as the demand for labour and wages. Automation may reduce or eliminate the need for certain types of manual farm jobs and some intermediary services, adding to the impact of structural transformation on labour in rural areas.
Emerging employment opportunities will be skewed towards the higher end of the skills base. Progressively higher skills will be needed to farm and engage effectively in agri-food value chains as technology advancements spread further. This will increase employment opportunities for highly skilled labour, but risks further marginalising low-skilled workers.
Digital technology could also lead to deviations from competitive outcomes in markets, affecting prices or quantities and, therefore, welfare.
It is difficult to foresee all the effects that technological innovations could have on how food is grown, traded and consumed. Further usage of technology could lead to significant gains in this area. But it is worth noting that some of the risks involved in technology adoption are not yet fully understood.
The issues mentioned above point to the necessity for enhanced collaboration between all stakeholders. They also require a consensus on best practices that could shape a regulatory framework to maximise the benefits of digital technology for food, farmers and agriculture and minimise the associated risks.
The views expressed in our weekly opinion piece do not necessarily reflect those of Farmer's Weekly.
This article is an edited excerpt from the Food and Agriculture Organization of the United Nations' 'The state of agricultural commodity markets 2020' report.