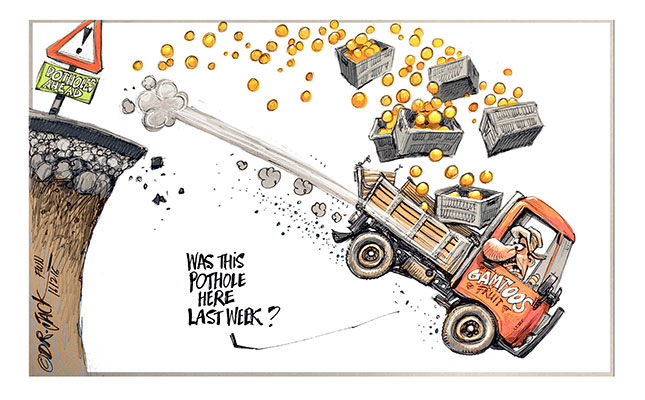 According to organised agriculture in the region, gravel roads were in such a parlous condition that it was risky to use cars on them, while large potholes in tarred roads could cause considerable damage to vehicles, or even serious accidents.
Petrus du Preez, chairperson of the Gamtoos Agricultural Association, said that the patchwork carried out at some points on the R331, the region's main road, could not handle the growing load volumes.
"Because of this critical situation, Gamtoos citrus producers are currently doing a long-term evaluation so that we can approach the powers-that-be on a higher level than provincial government with the necessary statistics to negotiate for what is our constitutional right," said Du Preez.
"Alternatives, such as the currently unused railway line, form part of our planned negotiations. We should be ready with enough data to get the ball rolling."
One of the disgruntled farmers, Danie Malan of Tierhok Farm in the Patensie district, told Farmer's Weekly that maintenance work was being carried out ad hoc by only one team comprising a driver and two workers.
"When the team has to fill up a pothole they actually have to apply for material to carry out the work.
"The provincial department should listen to their road engineers who carry out requirement evaluations and act accordingly. Roads have deteriorated to such an extent that you're scared to use a normal car on it.
Baviaanskloof, which a few years ago could be negotiated with normal vehicles, has now become a huge test for 4×4 vehicles," Malan said.
Mpumzi Zuzile, spokesperson for the provincial Roads and Public Works Department in the Eastern Cape, assured motorists that the department was doing its utmost to eradicate the backlog for maintenance of roads in the area.
"The province needs R102 billion to maintain roads in the province, but we received only R2 billion this financial year," said Zuzile. "Luckily, Sanral chipped in with R5 billion to assist with the maintenance of roads in the province."