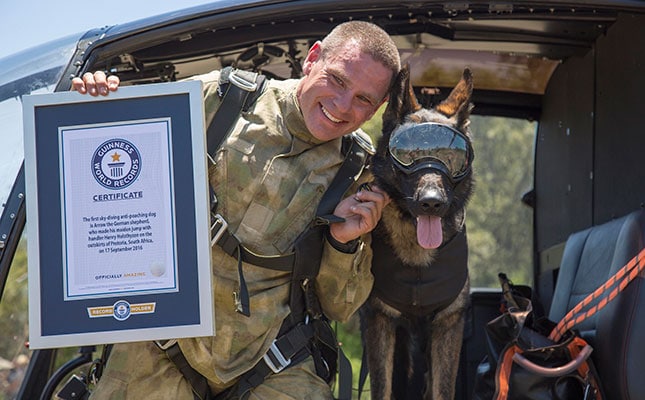 Two-year-old Arrow, made his maiden jump with handler Henry Holsthyzen of Paramount Group, an anti-Poaching and dog training academy in Rustenburg, North West.
The company manufactures aircraft, armoured vehicles, naval vessels and drones for governments around the world.
The jump was executed at the Waterkloof airforce base, Pretoria. As a puppy, Arrow was specially selected for his temperament and trained to descend from a helicopter by rope, strapped to Holsthyzen, and finally, to skydive.
Arrow is one of nearly 200 specially bred and trained dogs at the Anti-Poaching and Canine Training Academy.
Arrow's entry to the Guinness World Records family comes after much preparation. His skydiving expertise hinged on his close relationship with his handler.
The academy trains conservation officers in anti-poaching methods, wildlife contraband detection, and specialist dog handling techniques to combat poaching, for the military and police, as well as other specialised requirements.