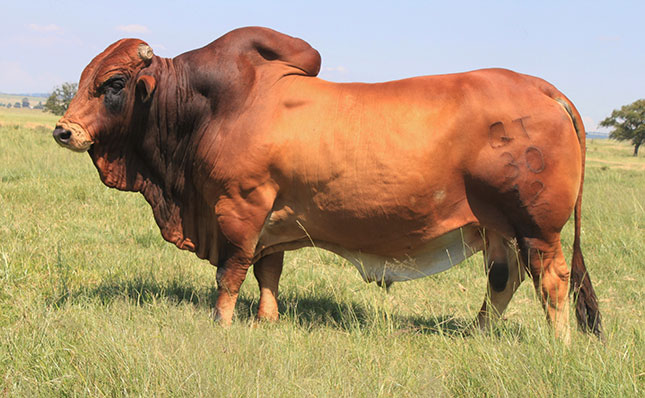 The R1,7 million winning bid for an eight-year-old bull sold recently at the National Boran Sale, set a new South African price record for a bull of this breed, far surpassing the previous national record of R1 million.
READ Nguni bull sells for record R310 000 on WhatsApp auction
Bull QT 12-30 TARZAN was bred and sold by Wessel Meyer, owner of Meybor Boran Stud in Mpumalanga, and bought by Jaco van der Walt, owner of Mosdene Borans in Limpopo, at the annual sale held at the Afridome Showgrounds in Parys, Free State.
Van der Walt told Farmer's Weekly that, having been a Boran stud breeder for only the past two years, he was still new to the sector.
He had, therefore, been prepared to pay so much for QT 12-30 TARZAN because the bull's top genetics would be an instrumental foundation on which he could continue building his fledgling Boran stud herd.
"[The bull] is a combination of Zambian and Kenyan genetics and, in terms of his length, depth and beefiness, he has everything that can compete with any other breed. I've registered him as an AI [artificial insemination] bull with Embryo Plus and, for the next three to four years, they will tap his semen for me to artificially inseminate selected female animals in my stud herd. After that I might start selling his semen to other breeders," he said.
READ Breeding record-breaking Mutton Merinos
Meyer said that it was an "incredible feeling" that he was able to sell a bull that he had bred for his own breeding goals for such a high price.
"The fact that the Meybor Boran Stud sold a bull for R1,7 million means an incredible deal because now the stud is better known among Boran breeders, and testifies to good-quality animals. Bloodlines play an important role in breeding, but the right combination is important. The right match is magic. There is […] now greater pressure on me to continue building on this," he added.
The average prices achieved at the 2020 Boran National Sale were: 16 bulls sold for an average of R181 000 (highest R1,7 million); 13 in-calf cows sold for an average of R56 150 (highest R130 000); 16 in-calf heifers sold for an average of R61 000 (highest R180 000); and cow-and-calf combinations for an average of R63 150 (highest R350 000).