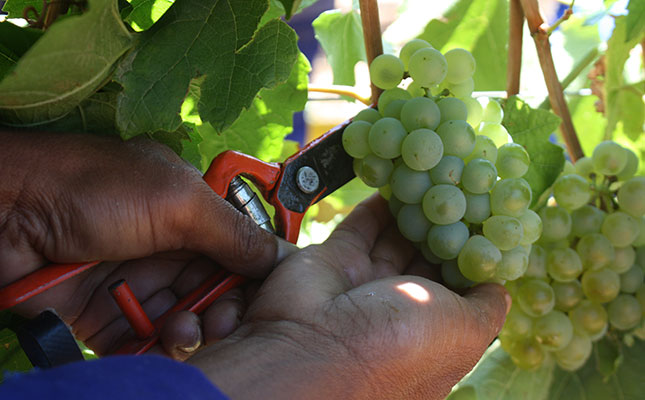 The recent decision by government to reinstate the ban on domestic alcohol sales under Level 3 of the lockdown regulations to contain the COVID-19 pandemic will result in an even larger surplus of wine in South Africa.
Richard Rushton, CEO of Distell, said the company would have a 300 million-litre surplus of wine this season, which was almost equivalent to an entire year's worth of domestic wine sales.
READ New alcohol ban a 'devastating blow' for SA wine industry
"Trying to deal with this and another ban is very daunting for the industry," said Rushton who was a panel member of a recent Landbouweekblad webinar that focused on the challenges faced by the wine industry. He stressed that for every week that the ban was in place, the situation would worsen.
A Swartland wine grape farmer, who spoke to Farmer's Weekly on condition of anonymity, said large cellars were canceling their delivery contracts with wine grape growers for 2021 on a large scale.
However, he said he was not yet sure whether he would be affected, and would only know in November, but was expecting a negative price adjustment for his deliveries.
He added that many cellars also told growers that grapes from certain vineyard blocks would not be accepted, and advised farmers to remove their less productive vineyards and those that had been infected with viruses.

He also mentioned that there was currently a decrease in the demand for high-end wines.
"These growers are especially under pressure as there is a [significant] surplus of these wines because restaurants, where these wines are mostly sold, can't [sell liquor]."
Meanwhile, a group of family wine farmers in collaboration with the Southern African Agri Initiative (SAAI) had applied to the Northern Gauteng High Court for an urgent hearing in a bid to have the ban on the sale and consumption of wine in restaurants set aside. The matter was due to be heard on 18 August.
READ Game reserve turns to meat sales amid COVID-19 tourism ban
Wine producers turned to SAAI as they were discontented with the way in which Vinpro had handled the challenges faced by the wine industry since the lockdown was implemented.
Schalk Burger of Welbedacht wine estate near Wellington told Farmer's Weekly that by joining the South African Liquor Brands' Association (SALBA), wine farms had unilaterally been defined as part of an alcohol lobby.
He said that along with several other producers, he had told Vinpro "very pertinently, in writing", that they did not want to be seen as part of the alcohol lobby.
Responding to these allegations, Vinpro said: "For us, it is important to stay in formal contact with our members. This is exactly what we have been doing over the past 110 days through regular [correspondence] to pass on the latest information. Constructive conversations, dialogue and communication continue to be part of our effort to serve the wine industry and guide it through this time of crisis."