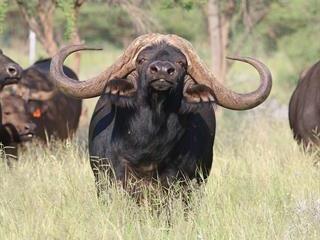 This was according to Rubin Els, CEO of Thaba Tholo Game Reserve, who said Inala was the main attraction on the catalogue for the game reserve's eighth annual auction on Friday.
According to Els, the reserve had been receiving offers for Inala since he was spotted as an exceptional young bull while part of a free roaming herd in 2011.
In 2012, the young bull was "parked" in a protected environment to protect him from other animals.
"Although Inala was born here, we don't know his parentage or any other particulars about him. We needed to protect him in order to get offsprings from him. From a conservation point of view, we decided to put him on the market at a young age in order for him to breed and spread his genes," Els explained.
"He is a special animal; we had to allow him to breed at a young age. Normally we won't allow a bull to breed until he is at least 10 years old. Inala is nine years old," he added.
Thaba Tholo has sold 19 other bulls before Inala. Misty sold at R40 million in 2013, surpassing another bull that was sold at R26 million.
According to Els, a bull like Inala is rare to find, which is why he fetched a high price.
His horn spread is 51 and 3/8″ – the third-largest in South Africa, and he also has a high Safari Club International (SCI) score of 136,5.