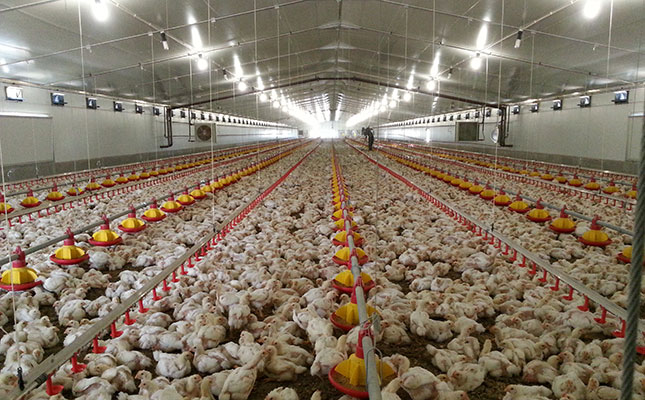 While the latest tariffs on imported frozen chicken published in the Government Gazette have been welcomed by key stakeholders in South Africa's poultry value chain, they are taking a wait-and-see approach to establish just how effective these tariffs would be in achieving their intended purpose.
READ Make money with free-range chickens
Izaak Breitenbach, general manager of the South African Poultry Association's Broiler Organisation, said that the new tariffs presented "a measure of relief" to the country's poultry production sector, which "suffered significant damage" due to long-time and reportedly unfair dumping of low-cost frozen chicken on the South African market by a number of other countries.
He explained that the Minister of Trade, Industry and Competition, Ebrahim Patel, had announced that import tariffs on frozen bone-in chicken portions would increase from the current 37% to 62%, and from 12% to 42% on frozen boneless chicken cuts.
READ Niche market supplying fresh chicken in the hot Lowveld
South Africa's poultry industry had applied for import tariffs of 82% on each of these categories of imported chicken.
"Local [chicken] producers supply about 70% of consumption in South Africa, and the new tariffs will apply to over 30% of all imported chicken. Imports from the EU [will not be] affected. The reaction from exporting countries may very well negate the desired impact of these tariffs, should [these countries] merely reprice surplus products. Only time will tell if the new tariffs work as intended," Breitenbach said.
A statement issued by FairPlay, a local non-profit organisation, also questioned whether the new tariffs would "stem the tide of predatory trade and dumped chicken swamping South African shores".
READ Chicken housing – get the basics right!
"FairPlay hopes that this will be the case, but a steady rise in dumped EU [chicken] imports after the lifting of [bird] flu bans suggests that further action will be necessary. Real protection for the local [poultry] industry, and a spur to job creation, would be to limit [chicken] imports to 10% of local sales," the statement said.
It added that if the new tariffs on poultry imports proved insufficient to kick-start "a revival" of South Africa's ailing chicken industry, all the other aims of the much-anticipated and recently launched national Poultry Sector Master Plan would "be in jeopardy", the statement said.