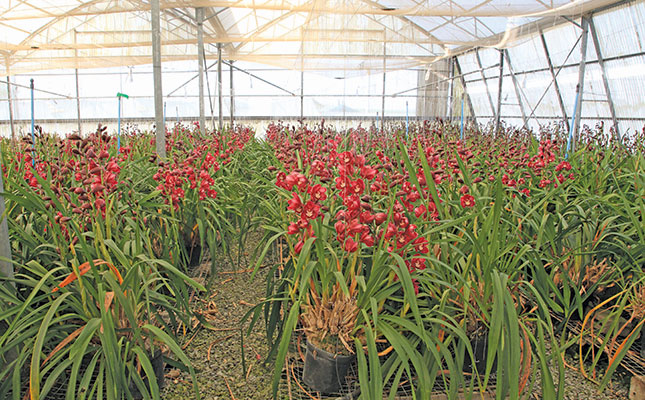 Frieda Duckitt says the orchid bug bit her after she bought four of the plants at the South African Orchid Council Show in Cape Town.
Venturing into orchid production came naturally to her, as she has green fingers and was already growing Anthurium and vegetables, and raising poultry on a small commercial scale on the Duckitts' family farm, Oudepost, near Darling in the Western Cape.
Initially, they grew the flowers in a wooden slatted house with a glass roof that Frieda's husband, Wilferd 'Junior' Duckitt, built.
"Since orchids were highly exclusive at the time, my mother used the money generated from Anthurium cut flower sales to gradually replace the Anthurium with orchids," says her son, also Wilferd, who today runs the business along with his brother, Nicolas.
Frieda mainly supplied florists with cut flowers. She, however, quickly gained popularity in the cut flower industry, thanks to her excellent eye for quality, which helped her upgrade and improve her stock collection during the first year of production.
"Instead of keeping plants for up to four years before eliminating them, we reduced production costs by culling up to 90% of seedlings that showed weakness, and selling orchids that were unsuited for cut flower production as pot plants," says Wilferd.
"Plants that did not make that grade were fed to the cattle."
Frieda's nursery was open to the public 24/7, resulting in orchid fanatics from all over the country flocking to the farm, especially over weekends. By 1971, she had grown her orchid business to such an extent that she was appointed the sole importing agent for UK company McBean's.
McBean's supplied her with new orchid varieties, which she offered for sale by catalogue until 1979.
After this, she, her husband and some business partners registered the business as Duckitt Nurseries.
In the 1980s, she entered another agent partnership with Ray Bilton, who came from the UK to supply her with tissue cultures of new varieties.
"These partnerships not only allowed Duckitt Nurseries to get hold of some of the best planting material available on the market, but also led to valuable market introductions," Wilferd says.
A new generation
Nicolas joined operations in 1983, after production grew too big for his parents to cope with. Wilferd followed suit in 1990, after completing a degree in botany at the University of Cape Town.
"Botany did not really prepare me for orchid breeding or production, but gave me valuable decision-making skills and a solid knowledge foundation," he says.
"Nicolas learnt on the job in Holland with Joop Meeuwissen, one of the world's top rose and Cymbidium [orchid] growers, something that would be recommended to any aspiring flower entrepreneur."
The business environment has changed greatly.
"Twenty years ago, about 90% of our business was built on cut flower exports. Competition since then has greatly increased due to the growing number of European growers who use heating to extend their production season," Wilferd says.
To overcome this challenge, they have diversified their market so that local pot plant sales have overtaken cut flower exports. Most of the plants are sold via Woolworths, garden stores and wholesalers.
The nursery is also open for sales to the public on the first Saturday of each month, when the orchids are blooming from May to November, and via a website operated by Nicolas's son, Robert.
Wilferd says the website is run independently from the nursery. "Robert buys the plants from the nursery. Sales have been growing so well since the website was started a year ago that Robert has been able to employ an assistant."
Cut flower exports have become more focused and concentrated to benefit from a period of lower production in Holland, from the start of July to the third week of August.
The bulk of the flowers is sold to wholesalers via Aalsmeer, and smaller volumes are exported to the US, the UK, Europe and the Middle East.
Airfreight costs can be cut by sharing container space with fynbos products.
"The only problem with the arrangement is that orchids are highly delicate and much more sensitive to temperature fluctuations. Extra care should therefore be taken to ensure everybody down the logistics and supply chain is aware of storage protocols," Wilferd says.
Consumer demand
Orchid varieties are carefully selected to ensure the nursery is able to meet consumer preferences. South Africans generally prefer orchids with intense colours, such as burgundy, maroon, yellow, orange, green, red and white, whereas the overseas markets prefer white, green and yellow, as well as light and dark pink flowers.
More recently, there has been an increased demand for red Cymbidium orchids in the European markets. This was unthinkable 20 years ago, says Wilferd.
The nursery produces hundreds of different varieties, with many thousands of plants growing in their five greenhouses, spanning about 5,6ha.
"We have developed many new varieties, but the general rule is that the new variety should always be better than both parent varieties," he says.
"In other words, it should either reduce production costs in some way, or fill a new market gap."
The main genera they grow are Cymbidium for cut flowers and pot plants, and Cattleya and Oncidium for pot and/or hanging plants.
African species, such as Ansellia, Angraecum and Aerangis, are produced as hanging plants.
"We don't produce many tropical species, since that would require heating, and these species are produced very cheaply in the Far East."
Nurseries not only have to ensure they supply the market with the right flowers of the right quality at the right time, they also have to juggle environmental concerns.
"Orchids won't be eaten, but we have to comply with strict export standards, which has resulted in us no longer using any pesticides.
"Instead, we make use of predatory and parasitic organisms to keep pest problems and diseases under control."
Effective microbes, and humic and fulvic acids, are increasingly used, along with liquid fertiliser, to boost plant health.
Global warming is a concern in some of their markets, but the carbon footprint of their flowers is generally lower than that of European competitors because the nursery does not use heating.
"Transport constitutes the biggest part of our carbon footprint, but our footprint is still lower than that of European- and New Zealand-produced flowers."
Their advantage over their biggest competitor in the Southern Hemisphere, New Zealand, is that South Africa is closer to the main markets.
Low labour costs used to be a market advantage, but the introduction of the national minimum wage has necessitated a change in operations.
In addition, Wilferd says worker efficiency has not kept up with higher wages: "We employ over 40 people and heavily invest in training to ensure they are able to do their jobs well. In parts of the Far East, however, remuneration is much lower and the work force is much better skilled in our industry."
Water has become a major concern, especially following the drought in the Western Cape.
"Most of our water is sourced from four boreholes, but the quality of the water is not that good, so we have been desalinating for about 10 years already. We have access to water from the Voëlvlei Dam from May to October, but this water works out just as expensive as our borehole water.
"We have fitted variable-speed drive controllers to the pumps to reduce electricity costs," he says.
Their plans for the future are to continuously work at improving production efficiencies: "If you want to remain sustainable, you constantly need to seek ways to streamline operations to reduce production costs while maintaining or improving product quality," says Wilferd.
Email Wilferd Duckitt at [email protected], or phone the nursery on 021 492 2606. Visit the website at duckittnurseries.com.