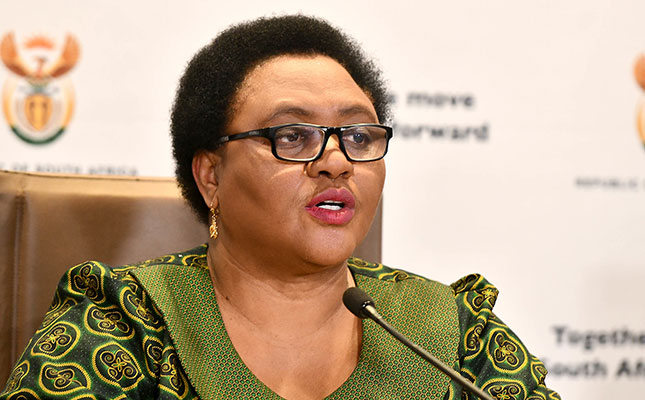 South Africa's commercial agricultural sector needs the same support as "new farmers". This was the opinion of Christo van der Rheede, executive director of Agri SA, responding to the Minister of Agriculture, Land Reform and Rural Development (agriculture department), Thoko Didiza's budget address delivered in Parliament on Thursday, 13 May.
He said in a statement that the support measures offered to new farmers should also be made available to commercial farmers. This after Didiza outlined the support measures provided to new farmers by the department.
READ State of SA's agri-parks again under scrutiny
Van der Rheede said growth in the commercial farming sector should not be taken for granted. Agriculture was a high-risk business and commercial agriculture was especially exposed to the volatility of global markets and the destructive impact of many other variables.
"We should not be under the impression that all commercial farmers are faring well at the moment. Yes, export [industries] such as maize, meat, macadamia nuts and table grapes are experiencing an upswing, but a large proportion of commercial producers find themselves in dire financial straits.
He told Farmer's Weekly that challenges experienced by producers included high debt levels due to drought and other natural disasters such as locust outbreaks and animal diseases.
READ How urban agriculture can contribute to food security
"[Acting] as a buffer between food security and food insecurity [for the country], the commercial agricultural sector deserves [being treated as a] top priority by government," he said.
Marlene Louw, senior agricultural economist at Absa Agribusiness, on the other hand, described the budget as well balanced.
According to her, the fact that Didiza addressed the national growth and development strategy, as well as specific practical issues that were currently constraining the industry made for a balanced presentation.
READ Lease-to-buy farmer receives title deed after 20 years
She said Absa was particularly pleased with practical interventions related to finance, extension services, and animal health. This included the appointment of 2 447 out of the 10 000 extension officers as announced in the National Budget during February.
"The appointments will go a long way in addressing the technical assistance deficit in the country.
The appointment of 50 additional animal health technicians was particularly welcome given the latest outbreaks of avian influenza and African swine fever in the country, she said.
Didiza announced that the department's total budget for the 2021/2022 financial year was R16,9 billion, with the Commission on Restitution of Land Rights being allocated R3,3 billion.
With regard to land reform, Didiza said the department had so far allocated over 436 560ha of the 700 000ha of state land earmarked for land reform as announced by President Cyril Ramaphosa last year.
Of this, the department had issued leases for over 206 760ha, including 53 880ha comprising 78 farms allocated to 211 women, about 14 250ha to 131 young people, and 842ha to persons with disabilities.
A further 116 farms comprising over 127 740ha were currently occupied by communities, she said.