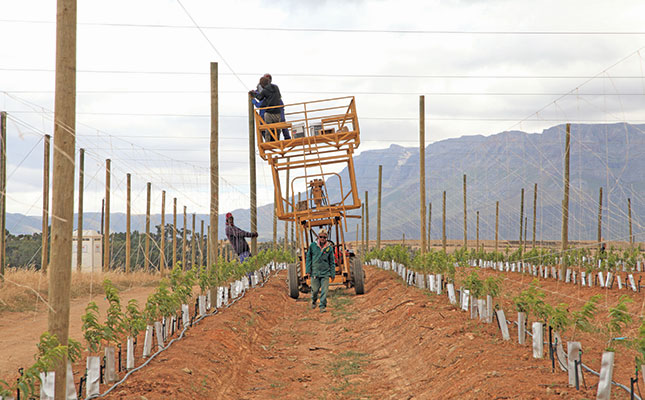 Daytona Farm in the Warm Bokkeveld near Ceres was once a prestigious horse stud farm. In the early 1990s, it was sold to government and transferred to a group of previously disadvantaged farmers as part of the Land Redistribution for Agricultural Development (LRAD) programme.
In spite of huge government investment to kick-start fruit production, the project was a failure and ended up being liquidated in 2015.
The founders of Partners in Agri Land Solutions (PALS), a private land reform initiative that started in Witzenberg, became concerned that Daytona might be lost to transformation, so started negotiations with government to keep the property for previously disadvantaged people from Witzenberg.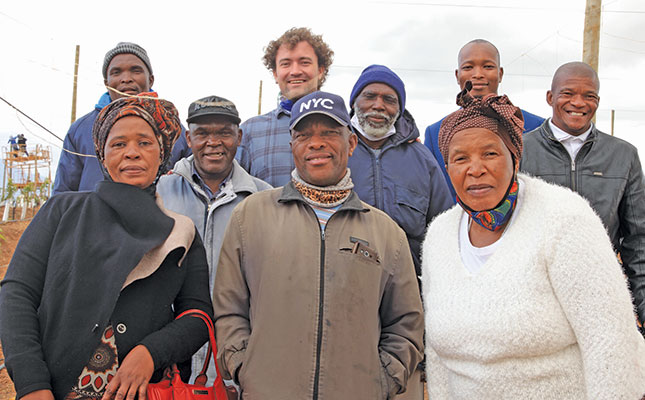 "Government was creating a list of possible beneficiaries from people all over the Western Cape, which was disconcerting considering the great hunger for land from our own vicinity," says Yongama Femele, public liaison officer of PALS.
Around this time, subsistence livestock farmers in Nduli, an informal settlement near Ceres, were clashing with the Witzenberg municipality because of health concerns and public complaints, and PALS was trying to assist them with their own land.
Realising that Daytona presented an excellent opportunity to address this conflict, PALS helped the farmers form a company, Daytona Farming (Pty) Ltd and motivated their claim to the farm. They made it onto the list of possible beneficiaries.
Working together
A problem soon emerged, however. The farmers, who did not know one another well, differed strongly in their political ideologies, each having his or her own strong convictions on land reform, economic empowerment and land ownership.
Michael Nyabu, one of the farmers, says they realised that they had to put their personal differences aside for the greater good.
"Each of us had applied for land at some time or another, and this proved to be the only legitimate way to make this dream come true."
Farmer Day Ngwane agrees: "We knew from experience how difficult it was to get your own land, so stood together and asked God's blessing and grace to help us with this objective, which was so much bigger than ourselves."
Another difficulty was that government had, in the meantime, replaced the LRAD programme with the Proactive Land Acquisition Strategy programme, which entailed a 30-year lease.
"Without ownership, the group would be stranded with no collateral to develop the farm," Yongama explains.
Lennox Plaatjies, the then PALS CEO, and Gerrit van Vuuren, strategic adviser, presented the farmers with two options: to request that government buy Daytona and allow them to
lease the land, or to request that PALS find a suitable commercial farmer as a partner to buy the land and accommodate them as majority shareholder.
Despite their differing ideologies, the farmers unanimously decided that their best chance of sustainably developing the farm was via the private sector and PALS. PALS then introduced the group to Stefan du Plessis, owner of Elandsrivier farm, who was looking for an opportunity to implement a PALS land reform enterprise.
André Lotz, managing director of Elandsrivier, recalls that Du Plessis had always wanted to get involved in an empowerment project, but his first envisioned project required approval from the then Department of Rural Development and Land Reform, and this had never been obtained. PALS suggested that Du Plessis and Lotz partner with the Nduli farmers.
"Time and effort should be taken to find the right partners," says Lotz. "In our case, the partnership with the Nduli farmers made sense as they were like-minded individuals, who had already proven their passion for agriculture."
He adds that being part-time farmers and successful business people in their own right, they weren't wholly dependent on the partnership for income. In fact, most of them do not work on the farm because of their age.
Challenges
The sales transaction dragged on for three years, firstly because of a court appeal from one of the previous owners, and secondly because government had a pre-emptive right to buy the farm, which it did not exercise.
Finally, the partnership, called Thembelitsha Farming, was established and acquired ownership of the 228ha farm on 29 May 2018. Yongama says that the name 'Thembelitsha' was chosen because it means 'new hope' in Xhosa.
The Nduli farmers own a 51% share in the business, even though they did not make any financial contribution; whereas Elandsriver, which bought the farm at considerable financial risk to its own business, owns a 49% share.
Daytona was severely neglected when Thembelitsha acquired it. Many trees had been planted with government funding, but the plant material was unsuited to the region, the irrigation infrastructure was poorly designed, and there had been a lack of mentoring in the previous project.
Another challenge for the partnership was a mismatch in visions.
"Being livestock farmers, the Nduli farmers wanted to create a huge feedlot, which would have been a underutilisation of land considering that this is a prime fruit production region and the farm has more than enough water to irrigate over 70ha," says Lotz.
While the returns from fruit production are far higher than from livestock, the group will have to wait longer before seeing any money from the project. In the end, however, the farmers saw the bigger picture and everyone bought into the idea.
Farm development
Plans to develop a world-class export fruit operation were launched immediately after the farm was bought, and the partners wanted to start breaking ground within 12 months. But due to unforeseen circumstances, the process to fully exploit the potential of the farm is still underway.
"With projects like these, there are always unforeseen challenges. We've learnt that patience is the key to the game, something that the Nduli shareholders continue to teach me," says Lotz.
He adds that Langman Jeke, one of the farmers and chairperson of the group, has been a pillar in the venture.
"He is a wise old man, for whom I have the utmost respect. He has a gift of communicating and uniting the group; his presence brings immediate calm."
Lotz says that, initially, the Nduli shareholders experienced much criticisim from other people in the community, who said they had been taken advantage of by Elandsrivier.
"There's a stigma to such projects, but we're here to prove otherwise. Trust takes time and effort. With the help of PALS, we're working hard to create a sustainable model for successful land transformation. These projects are a mindshift from the conventional partnership model. We hope to create an inclusive agriculture sector, as we need to stand together now more than ever."
In addition to buying the farm, Elandsrivier has assisted financially with the planting of cash crops like garlic and onions, and the development of infrastructure for the planned stone fruit production.
"We applied for funds, but most financiers don't understand the time-sensitivity of fruit production. You need to plant in a specific season, otherwise you have to wait for the following year, which also means you have to wait another year before the trees generate an income," says Lotz.
He says that each land transformation project requires a unique mix of financial products to address the demands and risks involved.
"Financiers need to create products specifically for the agriculture sector. We wouldn't have been able to overcome our difficulties so far if it hadn't been for Gerrit van Vuuren and Michael Brinkhuis, Hortfin's CEO, and their respective teams. They've been helping us, with great perseverance, to make this dream come true for all the stakeholders."
A dream come true
While the project has already started to create new job opportunities, the farmers will have to wait before receiving any financial benefits.
They are nevertheless all delighted with the way in which events have turned out. The trees planted this year will start producing a return on investment from 2023 and break even from 2027, whereas it would have taken four years for apples or pear orchards to start yielding returns.
Nonkosi Mqungquthu, who inherited her husband's shares, explains: "I'm happy, even though we're not seeing any returns now, because I can see there's development."
The new nectarine orchards consist of varieties in high demand. Ultra-high-density planting has been used, and the trees are covered with nets to protect them against wind damage and increase fruit quality.
Jeke says that four of the shareholders are already over 60, and he himself is 77.
"I grew up in the Eastern Cape, and have always worked the land, starting on communal land and later on commercial farms. I've applied for land for many years, but with no success until this opportunity presented itself.
"Waiting for the land to yield dividends is OK. I've waited this long to get my own land, so I'll wait another few years for it to make money. Also, I've made peace with the idea that this is a legacy I can leave behind for my children."
Email Yongama Femele at [email protected], or André Lotz at [email protected].