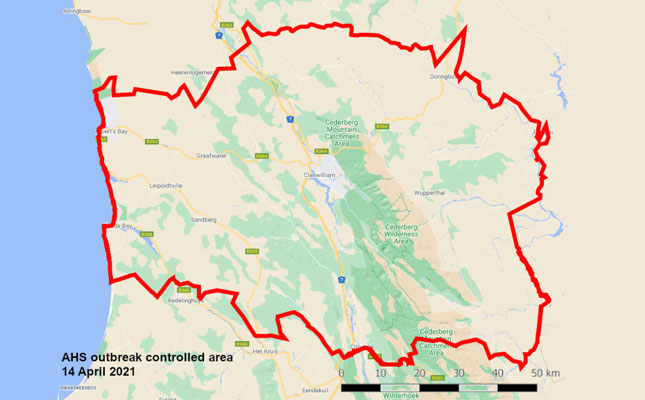 It is not yet clear whether the outbreak of African horse sickness (AHS) in the protection zone of the Western Cape will have an impact on the EU's auditing of the local horse industry to allow direct exporting of horses to the region.
The Western Cape Department of Agriculture announced on Friday, 16 April that five horses had died from the disease between 9 and 14 April on a farm in the Cederberg Local Municipality between Clanwilliam and the border of the Northern Cape.
"Samples from a recent a death were obtained on 13 April and submitted to the Stellenbosch Provincial Veterinary Laboratory and tested positive for the AHS virus," the statement said.
In response to the outbreak, the Western Cape Department of Agriculture established a controlled outbreak area that encompasses the Cederberg Local Municipality.
This meant that no horses, donkeys or zebras were allowed to move into, out of, through or within the controlled outbreak area without the relevant permits issued by the Western Cape Department of Agriculture's Veterinary Services.
AHS is caused by the African horse sickness virus, and can often be fatal to horses. It is transmitted by biting midges and does not spread via direct contact between infected and uninfected animals.
Dr Camilla Weyer, senior research officer and AHS control manager at South African Equine Health and Protocols (SAEHP), said limiting the movement of horses was of utmost importance to prevent the spread of AHS.
"The affected farm has been hard hit in a short space of time, and [SAEHP] cannot emphasise enough the importance of no movement of any sort of [any] equid in the area, as well as [the] reporting of any cases or movements," she said.
The direct exporting of horses from South Africa to Europe had been banned since the discovery of AHS in the AHS-free zone in 2011. This meant that horses had to be exported via Mauritius and quarantined in that country before being moved to their final destination in the EU.
This resulted in high costs for exporters and led to a decline in the exporting of horses from South Africa.
The EU had been due to conduct another audit on South Africa's AHS protocol in 2020, which could have led to the lifting of the ban. The audit was, however, postponed due to the COVID-19 pandemic.