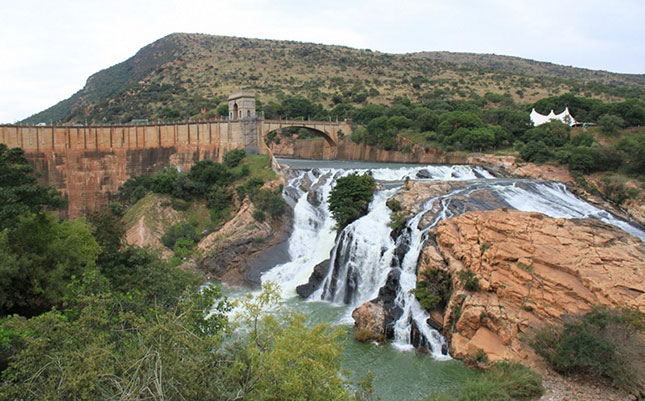 Hopes have been dashed that the recent widespread rain across South Africa's summer rainfall region would put an end to widespread water-constrained and drought conditions.
This followed a preliminary weather forecast for the December 2019 to April 2020 summer season in a Seasonal Climate Watch issued recently by the South African Weather Service (SAWS), which indicated that there were "enhanced probabilities of below-normal rainfall over the north-eastern and southern parts of the country" for this period.
"With regard to temperatures, mostly higher than normal temperatures are expected this summer over most of South Africa, with the exception of the far south-western part," the Seasonal Climate Watch added.
In recent weeks, many parts of the country's summer rainfall region had been hit by a combination of both extreme heat and heavy and often destructive downpours.
In a statement, the Minister of Water and Sanitation, Lindiwe Sisulu, said that despite the heavy rain, South Africans needed to continue saving water because the country was "not out of the woods yet" in terms of its water availability challenges.
Sisulu's spokesperson, Sputnik Ratau, told Farmer's Weekly that if SAWS's preliminary Seasonal Climate Watch proved accurate, "I think that we will end up in a worse situation than we are in now".
"The ground has often been so dry that when it is hit by sudden downpours the water just runs off instead of sinking into the soil. What we need is for the ground to be soaked by gentle rain over time. We are working closely with key agricultural organisations to promote water conservation and the efficient use of irrigation water among farmers," he said.
Henning Myburgh, general manager of Agri Northern Cape, said recent rainfall in this critically drought-stricken province had been sporadic and insufficient to break the drought.
"We've had below-average rainfall for the past five years. There are parts of the Northern Cape that are so dry that farmers have had to leave their farms and try to find work elsewhere. The drought here is nowhere near broken, and if the projected high temperatures and below-average rainfall come true, our problems will continue."
He added that the Northern Cape currently needed at least R668 million in drought relief funding from government to help affected farmers get back on their feet. This figure would increase if drought conditions continued.
"We've submitted a request to government for drought relief funding, but so far we have not received a reply," said Myburgh.
At the time of publication, the DWS had not updated its weekly dam levels information for the week ending 9 December.
The DWS's weekly dam levels, on an average provincial level basis, for the week ending 2 December stood at 48% for the Eastern Cape (61% last year); 67% for the Free State (79% last year); 89% for Gauteng (95% last year); 53% for KwaZulu-Natal (56% last year); 49% for Limpopo (60% for last year); 56% for Mpumalanga (67% for last year); 54% for North West (53% last year); 72% for the Northern Cape (74% last year); and 65% for the Western Cape (60% last year).
Average dam levels for Lesotho, which supplied large volumes of water to South Africa, stood at 21% (35% last year) for this period.
The DWS reported that South Africa's average national dam levels for this period the, with Lesotho included, was 58% (67% last year).