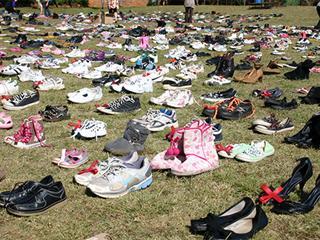 According to Kwanalu's unaudited statistics, there were four murders and 44 attacks in 2012 and one murder and 37 attacks in 2011. "We continue to suffer significantly at the hands of criminals in areas of stock theft, farm attacks and general theft, including crop theft," said Kwanalu president Brian Aitken. While KZN had experienced fewer incidents than other provinces, Kwanalu CEO Sandy la Marque said that crime was still at unacceptable levels.
"We are, however, grateful that, in most cases reported, the SAPS acted swiftly within the rule of law."
Koos Marais, head of Kwanalu's security desk, said that all too often police officers neglected to open a docket when a crime was reported. This skewed the true picture of criminal tendencies in any given area. "Neither does the annual release of national crime statistics assist in preventative planning or addressing crime at a local level," he added.
While the SAPS investigation of farm attacks was of a high calibre and arrests followed in most cases, Marais said that too few cases were finalised in court and bail set too readily to be a deterrent. "Most concerning is the inability of government to address the ever-increasing theft of non-ferrous metals and stock theft. The financial effect of these crimes on commercial farming cannot be calculated," he said.
Government's failure to execute its land reform policy efficiently contributed to crime and the lack of stability in the rural areas, he added. La Marque said that police successes at a local level created a positive relationship between the farmers' associations and SAPS. "This should be expanded where difficulties in areas occur. Local-level involvement is key to successful safety and security initiatives."