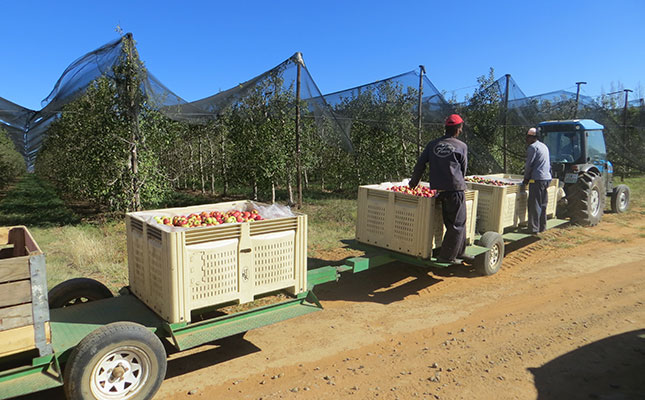 The Department of Agriculture, Land Reform and Rural Development (agriculture department) has made it clear that the agriculture and food sector value chain, which is responsible for food security, has been declared as essential.
Harvesting and storage of all farm products (wine, tobacco, wool, and mohair, amongst others) are included in the definition of food as an essential product.
Download Permit to perform essential service
In addition, the entire food value chain, from farm-related operations, agro-processing and food manufacturing, logistics and related services, wholesale and retail services, and all support functions that ensure efficient delivery of the agro-food system, have to be functional to ensure that people have access to sufficient, safe and nutritious food.
However, as Agri SA said in a statement, agriculture has an "enormous responsibility to ensure that the necessary precautionary measures are in place for all processes relating to the provision of food to prevent further spreading of the virus".
Certain regulations, as published in an amendment to the Disaster Management Act of 2002, which have been put in place specifically as part of the South African government's response to the coronavirus disease (COVID-19) pandemic, applies to the way in which farms and agribusinesses are to operate during the 21-day national lockdown period.
Please note that since this is a developing situation, readers are urged to stay up to date with any changes to these regulations that might still come into effect during the lockdown period.
Transporting staff:
While not a legal requirement, agribusinesses have been encouraged to make use of a labour force that  can be accommodated on site or isolated from other communities as far as possible.
READ Chinese farmers adapt to coronavirus with online buying
The regulations specifically place an obligation on employers to make the necessary transport arrangements for employees rendering essential services. The following regulations apply:
Vehicles used to transport workers to and from work should be utilised at no more than 50% of the vehicle's licensed capacity, and directions in terms of hygiene must be adhered to;
All employees and drivers should at all times be in possession of the documentation (a permit) designating them to perform an essential service;
Employees must be required to follow hygiene procedures such as using hand sanitisers and/or washing hands before entering a vehicle.
Precautions to be taken to ensure safety and health of essential workers:
According to Agri SA, the agriculture sector has a massive responsibility to apply all precautionary measures necessary to prevent the further spreading of this deadly virus.
READ Food shortages unlikely during coronavirus outbreak
The agriculture department has advised that the existing best practice codes for hygiene be implemented with additional measures to combat COVID-19.
The World Health Organization has recommended a number of steps be taken to ensure the safety of workers in essential workplaces.
These include the following:
The temperature of all employees must be checked before they enter the workplace. Employees with an elevated temperature (37,7 – 39,4°C) or high temperature (above 39,4°C) should be asked to go home and self-quarantine for 14 days;
Those administering the temperature tests should wear gloves, and use new disposable lens filters in the case of ear thermometers or forehead thermometers;
Ensure that the workplace is set-up to allow for social distancing between employees (2m apart);
All surfaces and objects must be are regularly disinfected;
Hand washing facilities and sanitising hand rub dispensers must be located in prominent places around the workplace and these dispensers must be regularly refilled;
Posters that promote hand-washing must be displayed;
Ensure that face masks and/or paper tissues are available at r workplaces for those who develop runny noses or coughs at work. Closed bins for hygienically disposing of them must also be provided.
What to do when an employee falls ill
Although there have not been any workplace-specific response recommendations published for agribusinesses, there are a number of steps that have been recommended that can be considered as best practice.
These include the following:
In the event that an employee is suspected of being infected with the COVID-19 or comes into contact with someone suspected or confirmed to be infected, the agribusiness must immediately contact the 24-hour hotline on 0800 029 999.
It is advised that the person suspected to be infected be isolated immediately and the business should not attempt to transport any affected employee to seek medical attention, but rather adhere strictly to the instructions given via the hotline.
Where contact is made with a person who is suspected of being infected, the entire business unit that was exposed should be quarantined immediately;
All employees should be quarantined and the instructions of an enforcement officer should be followed after reporting the incident;
The physical location should be thoroughly sterilised;
When work is to continue, a new team or staff compliment should be brought in until such time as all employees who were potentially exposed can be tested and verified.
Organised agriculture is being represented by Agri SA, Agbiz, Grain SA and TLU SA on the agriculture department's COVID-19 task team.
"We urge members of the agriculture and agribusiness sectors, who have been granted a special dispensation to continue working under the present circumstances, to strictly adhere to the Government Gazette published regulations and to hold each other accountable to comply with the law," said Dr John Purchase, CEO of Agbiz.
To access the regulations, including the template for the permits to be issued to essentials workers as published by government, visit gov.za.