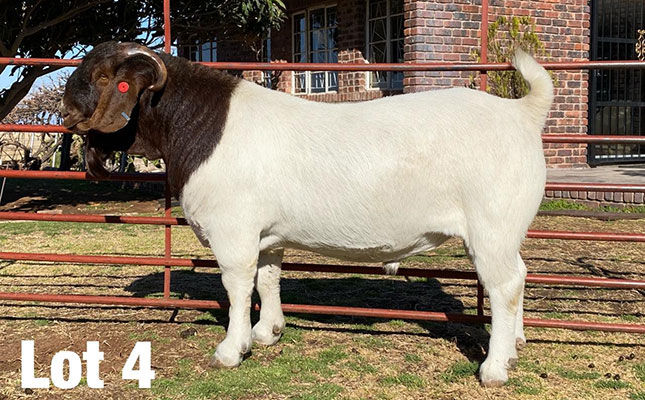 A Boer goat ram from the Lukas Burger Boer Goat Stud near Griekwastad has been sold for a record price of R375 000 during the stud's 22nd production sale, which took place at GWK auction pens in Kimberly on Wednesday, 16 September.
The highest-priced animal, the ram Klein Booster, was sold to Boeram Venter of Kirkwood.
READ Why SA's goat farmers must get down to business
GWK auctioneer, Deon Klopper, explained that Klein Booster was exceptional because of his bloodline. "The goat has ennobled Boer goat genetics, and his bloodline has produced several world champions."
The second highest-priced ram was sold for R320 000 to Petrus Visagie of Louis Trichardt. The 44 rams on offer achieved and average price of R63 000 each.
"Usually when we conduct an auction where a similar [number] of Boer goat [rams] are on offer, we are happy if they achieve an average price of about R20 000," he said.
Klopper added that this had been an extraordinary auction, saying he doubted whether he would ever witness a similar sale again in his lifetime.
READ Goat farming: nutrition and veld management
He told Farmer's Weekly that there was also a lot of interest from the international market for Boer goats from Africa.
"There is an incredible market for Boer goats due to the health benefits of the meat."
Martin Compion of Upington paid the highest-price of R65 000 for a ewe. The 60 ewes on offer achieved an average price of R32 276 each, which Klopper said was an "unbelievable" price.
The auction was jointly conducted by GWK and André Kock and Sons, with CDP Auctions handling the online auction.