As the people of the Western Cape huddle up under blankets next to roaring fires with red wine at hand dreaming of warmer times, fruit farmers are celebrating the start of what looks set to be a good winter.
Chill factor
According to Pierre du Plooy, technical specialist on stone fruit for the Du Toit Group, during May it measured the highest number of chilling units in five years on its farms near Ceres in the Koue Bokkeveld. It seems that June will follow the pattern, given the very cold temperatures of the second week of the mid-year month. "This means that, thus far, we have had the coldest winter in at least five years, which is very good for the stone and deciduous fruit crop. The trees need very cool temperatures to help bring them out of dormancy," he said.
According to Du Plooy, high chilling units in winter improve fruit bud quality and usually bode well for a good harvest. In the Overberg region, a major fruit growing area for the Western Cape, winter has stepped in hard and cold. André Cloete, apple and pear farmer from Klein Ezeljacht farm close to Greyton, said they have had some very cold conditions lately. "We are about to start pruning and we could really not have asked for better winter conditions," he said. Snow fell on the Matroosberg mountains near De Doorns.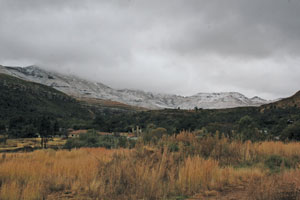 Lady Grey residents woke to snow on the Witteberg range. Towards Barkly East, the area of Motkop had a fairly heavy snowfall, resulting in road closures. Lady Grey town residents measured 18mm of rain that came with the snow and very cold days with a maximum temperature of about 5°C. Photo by Gavin Isted
Snow
The weekend also saw the first snowfalls of 2012 in districts in the north of the Eastern Cape including Aliwal North, Lady Grey and Barkly East. There have been no reports of serious livestock losses according to Lady Grey farmer, Pieter De Wet. "There is still snow on Lady Grey's mountains (the Witteberg), but the snowfall has not been as bad as other years," he said.
According to farmers DP Roets from the Barkly East district and John O'Mullane from the neighbouring Maclear district, they are not aware of any serious livestock losses linked to the region's first cold snap that covered high-lying areas in snow and brought temperatures down to -8°C in places.
SK Makinana, a farmer from the Ugie district, said the weekend's cold weather represented the determined arrival of winter that would no doubt claim livestock. "It is cold. There has been heavy frost this morning (Monday, 11 June)," he said. "I haven't heard of any livestock losses – at this stage."
But in the Mthatha area of the province, farmer Livingstone Fiko lost animals to the harsh weather. "It has been very cold and I lost 16 lambs," he said. John Pearce, operations manager for the Underberg/Himeville Community Watch in the Southern Drakensberg of KwaZulu-Natal said that there was a light blanket of snow on the mountains and that one farmer had recorded a temperature of -14°C. There were no reports of livestock deaths.
Hail on KZN coast
Meanwhile, during the same weekend, a severe hailstorm stripped plants of foliage and left a carpet of hailstones up to 20cm thick in Durban. SA Weather Service forecaster Wiseman Dlamini in Durban said the hailstorm, which was accompanied by lightning, thunder and strong winds, struck Virginia airport and greater Durban North, and there were unconfirmed reports of hail in Umkomaas, south of Durban.
Errol Koekemoer, vice-chairperson of Sezela Canegrowers Association, said there had been no reports of hail or hail damage from sugar cane farmers on the south coast. Snowfalls were recorded over the weekend in the Lesotho mountains, with cold minimum temperatures in KZN in Underberg (-11°C), Kokstad (-3°C) and Van Reenen (-7°C), as well as Ladysmith and Newcastle, on 11 June. "The mornings are chilly and farmers could be worried about frost damage to their crops," said Dlamini.
Livestock spared
No damage to livestock has been reported in the Free State or North West. Farmer Tinus Steenkamp from the farm Grootpan in the Warden district said he was not aware of any stock deaths in his area of the eastern Free State. The redeeming factor was that conditions were relatively dry.
Steenkamp said it could have been a different scenario if the cold had been accompanied by heavy rain and strong winds. Free State Agriculture CEO, Henk Vermeulen, said that no losses had been reported. Agri North West CEO Boeta du Toit confirmed that no damage was reported in the province. Temperatures as low as -8°C were recorded in Aliwal North and Fauresmith. Light snow also fell in Clarens, Bethlehem and Bloemfontein.
Wind and fire
While farmers in the rest of the country were freezing, farmers in Mpumalanga were fighting fires. Winds of over 100km/h, coupled with very dry conditions, proved disastrous as numerous wildfires raged there over the weekend. Some 35 wildfires were reported during the period, but estimates are that this was only 30% of the true figure. Trevor Wilson, manager of the Mpumalanga Umbrella Fire Protection Association, said that it was a busy weekend for his fire-fighting teams.
While no statistics for the extent of the fire damage in Mpumalanga were available at the time of going to print, Wilson said that livestock grazing and timber plantations were burnt. There were no reports of human, livestock or infrastructure losses. "Just because the conditions are right for wildfires it doesn't mean that there have to be fires," said Wilson. "People were the cause of these fires and we plead with them not to set runaway fires."
KwaZulu-Natal reportedly experienced 16 wildfires over the weekend, with 85km/h winds measured near Vryheid in the north of the province. "Much of the damage was to grazing and forestry plantations," said Vryheid Fire Protection Association manager, Johan le Roux. "A church on a farm burnt down."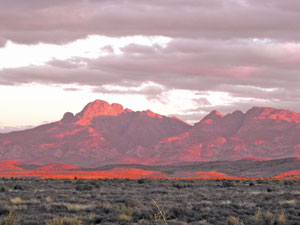 The Baviaanskloof and Great Winterhoek mountains form a rain divide cutting the south-eastern Karoo interior off from coastal-side rain. Photo by Roelof Bezuidenhout
CEO of the KZN Agricultural Union, Sandy la Marque, said that northern KZN was currently extremely dry and that a survey was underway to determine the impact of the drought conditions. "Once the survey is completed, we will discuss what interventions are needed by the [provincial] agriculture department," La Marque explained. "One farmer has sold his livestock because he's worried he won't be able to feed them, while other farmers have significantly decreased stock numbers. Many dams and rivers are dry."