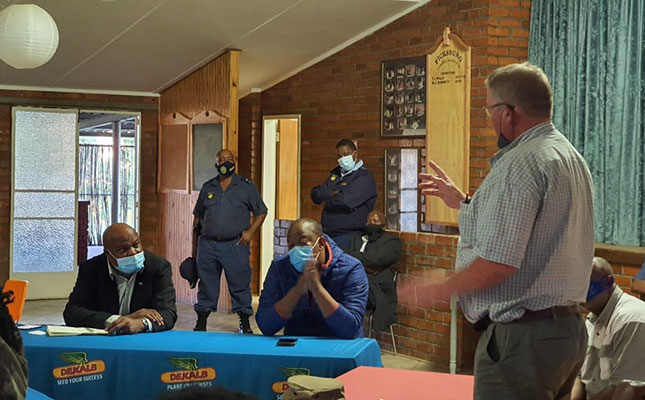 Free State Agriculture (FSA) president, Francois Wilken, has expressed the hope that the Free State MEC for Roads, Sam Mashinini, will honour his promise to attend to the poor state of the roads in the Ficksburg area.
This followed the community's protest action this week against the dire condition of the roads in the district. Mashinini arrived in Ficksburg late on Wednesday, 17 March to meet with the concerned community members.
Farmer's Weekly earlier reported that the Ficksburg Community Forum, Sechaba sa Ficksburg, had closed a number of roads in the district to force the Free State government to heed their plight, after all previous attempts to draw attention to the matter came to naught.
According to Friedl von Maltitz, FSA regional representative, the Free State government announced after the protest action that work on the S67 road would begin early the following week.
Planning was also underway to introduce three additional roadwork teams for the district.
It was decided that Morgan Barret, chairperson of the Ficksburg Agricultural Association, would work with the appointed engineer to monitor progress, plan budget spending, as well as make decisions on the roads that needed to be repaired.
"We are grateful that the action has yielded results and hope that it can spill over into the whole province," Von Maltitz said.
Wilken told Farmer's Weekly that service delivery, as well as the maintenance and upkeep of infrastructure in the province, had severely deteriorated, and he expected protest action such as was witnessed in Ficksburg to increase in future.
This was underscored by towns such as Warrenton in the Northern Cape and Sannieshof in North-West where municipal service delivery had been taken over by the residents.
"Ficksburg has shown what could be achieved through community co-operation. Sechaba sa Ficksburg, in a spirit of co-operation, decided to work together for a common cause and achieved the results they aimed for.
"Our biggest hope now is that the authorities and decision-makers will keep their word on the matter. The issue of road-deterioration is not limited to Ficksburg. The entire province's roads are in a terrible state and need urgent attention," Wilken said.
Despite various attempts, Farmer's Weekly was unable to obtain comment from MEC Mashanini's office at the time of publishing.