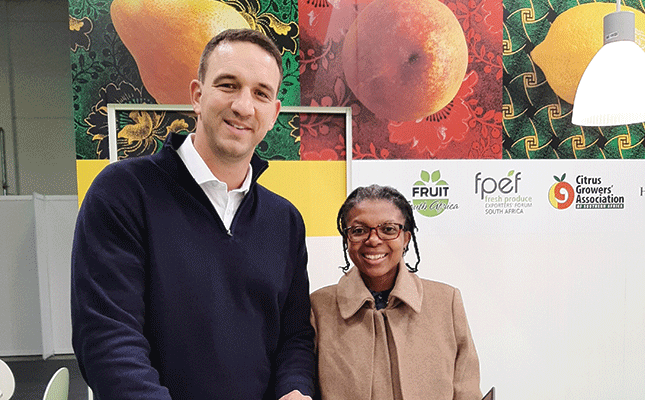 The recent Fruit Logistica Berlin 2022 exhibition in Germany hosted 40 000 buyers and trade visitors from about 130 countries, as well as 2 000 exhibitors from 87 countries.
Justin Chadwick, CEO of the Citrus Growers' Association of Southern Africa (CGA), said it was great to be back at Fruit Logistica following two years of video conferencing due to COVID-19-related trade restrictions.
"Although the fair was smaller and [there was] less foot traffic, it seemed that people were less hurried and able to spend more time with those who were there."
Anton Rabe, CEO of Hortgro, agreed: "Fruit Logistica was not as big as in previous years, but the attendance was a pleasant surprise, and the personal interaction after more than two years was very encouraging in these trying times."
A big disappointment, according to Chadwick, was that the Department of Trade and Industry, which supported South African growers with [putting up] an impressive pavilion in past years, did not contribute this year.
"The CGA, South African Table Grape Industry (SATI), Hortgro and Fresh Produce Exporters Forum had to fund the stand, which meant that the stand was smaller than at previous events.
"[But] it would have sent a negative message to buyers if South Africa was not represented at the show as a country," Chadwick said.
Rabe, Chadwick and Mecia Petersen, manager of market development and communication at SATI, identified logistics and rising input costs as the biggest talking points at the show.
Chadwick said everyone acknowledged logistics were going to be challenging in 2022, with most concerns being about the availability of containers, shipping opportunities and shipping schedules.
However, the discussion among participants at the fair was more about the extensive increase in freight rates.
"We understand that rising fuel price costs and the war between Ukraine and Russia are driving up shipping costs, but not to this extent," Chadwick said.
Rabe added that skyrocketing logistical costs, extended transit times and the impact of this on the quality of fruit on arrival, the market and ultimate pricing, combined with extreme increases in costs, were threatening the sustainability of the fruit industry in the Northern and Southern hemispheres.
"Locally, we are trying to keep our heads above water. Globally, there is also a combined effort to communicate that current price levels are below break-even and simply unsustainable. The South African fruit industry is rather resilient and will no doubt adapt to these challenges, but consolidation throughout the value chain is an unfortunate reality," Rabe said.
Other significant trends, according to Petersen, were a move towards paper packaging and an increase in organic exhibitors, reflecting consumers' growing demand for more environmentally friendly packaging and production methods.