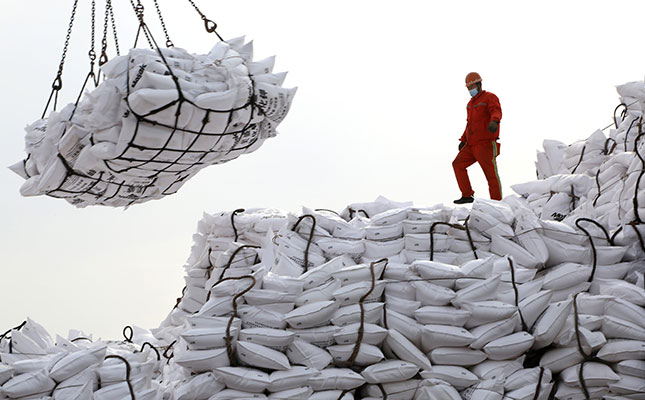 International fertiliser prices, except for potassium chloride, were at their highest levels in more than 24 months during March, according to Ikageng Maluleke, an agricultural economist at Grain SA.
"International prices have increased mainly due to low stock levels caused by the [COVID-19] pandemic, rising natural gas prices, and earlier plantings in the US and EU, which increased demand for fertilisers," she said in a statement.
Other factors that added to the increase in fertiliser prices included the correlation between the price of natural gas and the rising Brent crude oil price, as well as increased crop plantings in the Northern Hemisphere, which pushed up the demand for nitrogen.
In the case of urea, a smaller supply in China had supported price hikes.
Maluleke ascribed phosphate price increases to US import restrictions, while the high levels of potassium chloride supplies had pushed international prices sideways and downwards.
Over the past year, potassium chloride had shown a moderate decrease of 7,8%, while ammonia, urea and diammonium phosphate had increased 28%, 68,5% and 78,6% respectively.
In South Africa, fertiliser prices followed a similar trend in rand terms, although the increases had less of an impact locally because of the stronger currency, Maluleke said.
She added that an increase in crude oil prices could push fertiliser prices up even more, particularly those of nitrogen and monoammonium phosphate. Should crude oil prices go up, this would also have an impact on the transportation cost of fertiliser, pushing prices up even further. A weakened local exchange rate during the course of 2021 could also result in a noticeable increase in prices.
Dawie Maree, head of communication and marketing at FNB Agriculture, said maize producers were already procuring inputs for the 2021/2022 planting season, which usually started in September or October. This meant that the input costs for planting the coming harvest would be high.
According to Maree, the large maize harvest of 15,8 million tons expected this year would put pressure on prices as harvesting continued and supply increased.
Currently, on the brink of the summer grain-harvesting season, maize prices remained comparatively high. The current price of white and yellow maize delivered in June 2021 was R3 036/t and R3 133/t respectively.
"However, as the harvest continues, it will put pressure on prices, as determined by supply and demand.
The input-cost situation is made even worse by the ever-increasing fuel prices, and the 16% increase of the minimum wage.
"The price of herbicides is also derived from crude oil prices and will push input prices up even more," Maree said.