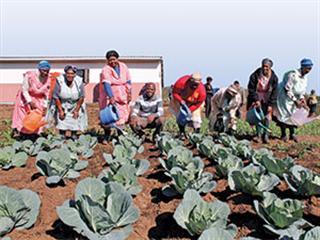 It is not only young women who are involved, but their mothers and fathers too – and ANTS is opening opportunities for isolated farmers to participate in the mainstream economy. The name 'ANTS' is derived from the insect. Prof Albert Modi, head of the School of Agricultural, Earth and Environmental Sciences at the University of KwaZulu-Natal, introduced an integrated crop management system to the people with the assistance of a R40 000 donation from Old Mutual.
"When ANTS was formed we had two objectives: to entice young people to participate in agriculture; and to encourage adults to diversify their production beyond amadumbe, maize and beans to include vegetables. This was a challenge because even though vegetables have a quicker and higher income, madumbis are a traditional crop," said Modi. There are 40 ANTS women ranging in age from 14 to the mid-30s.
"We built each member a shade house that allows them to grow vegetables in bags. This was a success. They combine their spinach harvest to supply schools, in addition to selling the crops to neighbours," said Modi. Phili Maphumulo, an ANTS farmer since 2008, has a tunnel at her home. "This initiative has made a difference in my life. We weren't employed before and now we have money to buy essentials like bread," she said.
Once the ANTS were successfully growing vegetables, their parents were encouraged to do so too. "It's hoped that more adults will grow vegetables all year round and collectively market them through the packhouse under construction at the Ezemvelo Farmers' Organisation," said Modi. "Marketing as individuals will also be an option. There's more land in the rural areas – mostly occupied by alien plants – that can be used to produce food and reduce the cost of food for the rural poor."
ANTS farmer Lungisile Mkhize agrees that the initiative is helping to grow the local economy. "This is how we'll generate an income. Once the packhouse is complete, we'll bring our produce here. We didn't have a market before," he said. Local chief Nkosi Langalasembe Mkhize said he would like to see the project expanded. "Wherever I see green lands, it shows me women are working hard with their husbands."