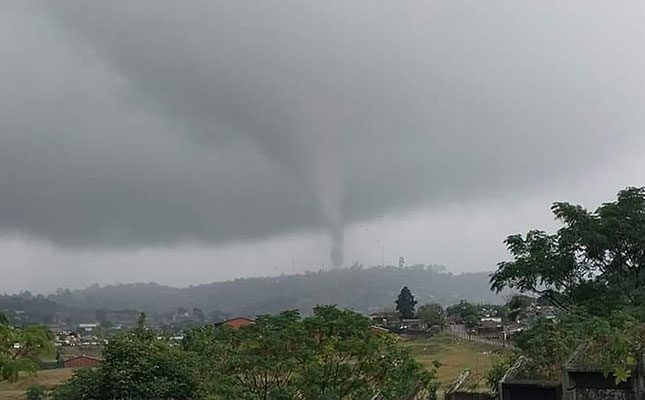 The tornado touched down in Bhambayi and affected the Phoenix, KwaMashu, and Inanda areas with reports indicating that one person has been presumed dead and three people sustained minor injuries.
According to local emergency response, Reaction Unit South Africa (Rusa), a herder in Zwelisha, northwest of Durban, has been presumed dead after being swept away by flood waters.
"The river swelled rapidly during this afternoon's (Tuesday) heavy downpour. Members of Reaction Unit South Africa and police officers from the Verulam [South African Police Service] interviewed several witnesses at approximately 16:14 who confirmed that the [man] was herding cows in Palmview. He allegedly decided to return to his residence in Zwelisha after sudden heavy rains swept through the area.
"While traversing the river, the herdsman and one cow experienced difficulty and were swept away. The cow managed to exit the river further downstream but witnesses confirmed that the man disappeared underwater. Reaction officers have scoured the river banks from Zwelisha to Ottawa in an attempt to locate the victim but the search was unsuccessful. Flash flooding, poor lighting and continuous heavy downpours have hampered any attempt of a rescue," Rusa's Prem Balram said.
At least 50 homes have been damaged and hundreds of individuals have been displaced.
The number of homes damaged is expected to rise as impacts from the tornado are widespread.
Strong winds and heavy rain also raked some parts of the eThekwini Metro and Ugu District areas resulting in the damage of socio-economic infrastructure such as roads, electricity and water.
While respective government departments are still surveying the extent of the damage, it is believed damage to land and infrastructure could negatively impact small-scale farmers in the affected areas.
According to the KZN department of agriculture, this kind of natural disaster can potentially hold a largely negative impact on production, food security, and the local economy. However, the department will only have a full picture of the extent of the destruction once all the areas are visited.