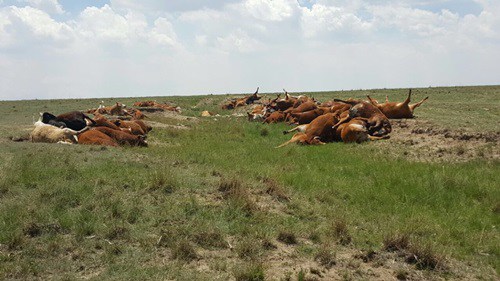 Cattle of all ages belonging to Hein Barnard of Pieksdal Farm died after consuming livestock feed, which was allegedly delibrately poisoned with zinc sulphate.
Danie du Plessis, of farmers' union TAU Mpumalanga, told Farmer's Weekly Barnard had long been struggling with various land claims lodged against Pieksdal Farm.
READ 200 sheep dead in N1 truck
According to Du Plessis, Barnard's farm had also allegedly experienced cases of people hunting illegally with dogs and arson, where the veld had been set alight by unknown persons.
"The cattle poisoning happened soon after the hunting dogs were shot. Illegal hunting with dogs on farms is a big problem," said Du Plessis.
TAU Mpumalanga's umbrella body, TAU SA, has hired a private company to investigate the cattle poisoning.
"This type of thing is totally unacceptable and is very concerning. We expect the police to do their job in tracking down the people involved in poisoning the cattle. If people are allowed to behave in this way to settle their grudges, and then get away with it, it does not bode well for our country," said Du Plessis.
The total value of the animals that Barnard lost in the poisoning incident is estimated to be approximately R1 million.
Farmer's Weekly's attempts to obtain comment from the Mpumalanga SAPS and directly from Barnard have so far been unsuccessful.