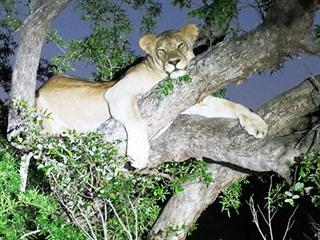 Satellite tracking has revealed that the alpha lioness and three sub-adults have been exploring their new home. The lions even took down and feasted on a buffalo on the first day they were released from their holding boma.
Translocated from Tembe Elephant Park on the KZN border with Mozambique, the lions first spent five weeks in the holding boma to acclimatise to their new home. They were released in early December to roam uMkhuze at will.
On the lions' extensive movements since being released, iSimangaliso CEO Andrew Zaloumis said: "This kind of movement is to be expected as part of post-release exploratory behaviour as the lions begin to learn their surroundings and orient themselves spatially. It is important as they need to know the location of crucial resources such as water sources, vantage points and shade."
Lions are gradually being reintroduced into appropriately fenced sections of the 332 000ha world heritage site as part of efforts to fully restore the park's historical ecosystems. Two mature male lions and two mature lionesses are due to be released into uMkhuze in coming months.
Conservationists have reported finding a number of lion kills in uMkhuze since the reintroduction. These kills, most of which have been wildebeest, have resulted in increased, and desirable, vulture activity in the section.
Twitter: @PhillipsLM