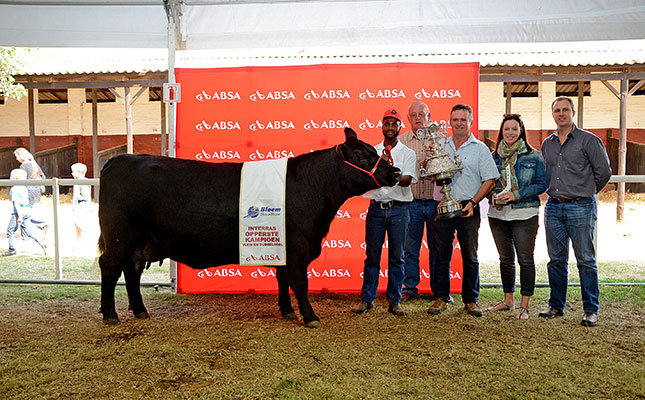 Two Angus cows received top honours at the annual Absa Beef Cattle Interbreed Championship held at the Bloem Show on 6 May.
The black Angus cow, Milagro Power 13 24, owned by Andrew Masterson of Humansdorp, won the Supreme Champion Beef Animal for 2017 title, as well as Grand Champion Cow title during the Angus national championship, also held during the show.
A red Angus cow, Roechama Suré, owned by RC Malherbe of Hertzogville, received the Reserve Champion title in the interbreed event.
More than 1 000 beef cattle participated in seven championship events during the course of the show, which culminated in 123 cattle participating in the interbreed championship class.
Breed director of the Angus Breed Society and junior interbreed judge, John Boulle, told Farmer's Weekly that the top cow's win was a tremendous achievement for the breed.
Another milestone was achieving a new SA record price of R255 000 for the breed's Senior Champion Red Bull, Loumotta John Deere (owned by Loutjie Kampher of Ventersdorp), at the society's annual awards ceremony and national sale on 5 May, according to Boulle. The bull was purchased by RC Malherbe and Partners.