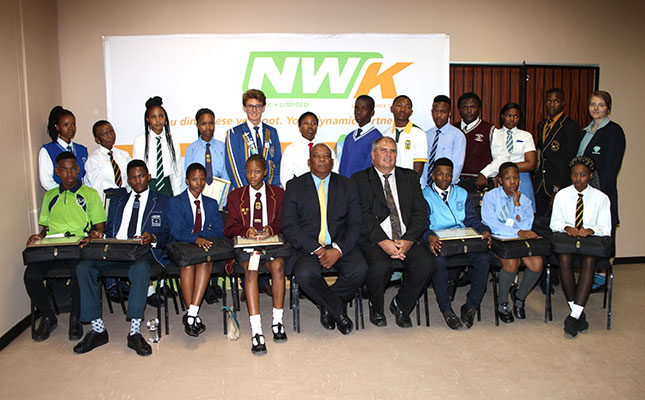 Agriculture business NWK recently handed over laptops worth about R244 000 to the top-performing Grade 12 learners for 2019 at 20 schools in the Ditsobotla district in North West.
Theo Rabe, CEO of NWK, said the laptops would be of great help to these learners when they embarked on their tertiary studies at universities across the country.
"NWK has been a proud sponsor of this award function for nine years now, and it is a privilege for us as a company to be involved and plough back into this rural area," he said in his address.
The Ditsobotla Local Municipality included towns such as Lichtenburg, Coligny and Biesiesvlei. At the handing-over ceremony in Lichtenburg, Rabe said that it was a shame that rural areas often lost talented youths to cities.
"We urge you to come back. We are waiting for you. The agricultural industry has a vast array of opportunities for young people, such as agricultural sciences, engineering, human resources and economics," he said.
*Front (from left): Tate Keorapetse, Nelson Chelemu, Charlene Timmerman, Rudo Nheta, Samuel Nkone (former area manager of the Ditsobotla sub-district, North West Department of Education and Sport Development), Theo Rabe (CEO of NWK), Herman Thekiso, Didntle Mosimanekgosi, and Wasanjuka Phillip. Back (from left): Kgantsiso Maema, Bokamoso Ramadie, Karabo Lepoqo, Tshegofatso Malakaje, Janko Botha, Mmathapelo Motlhaoleng, Tshediso Matshediso, Tshepang Tambileyo, Matsoso Rakoloi, Vukile Ncango, Tshegofatso Nyakgosi, Othusitse Basieng, and Marizanne Brenkman.