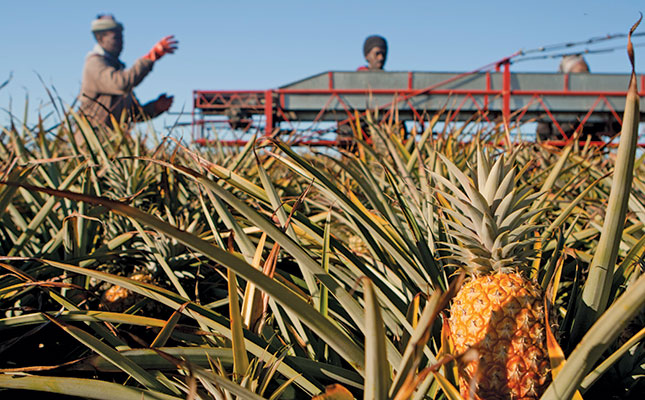 Pineapple producers in the northern KwaZulu-Natal region have expressed the hope that as the economies in overseas countries start to "open up" after the COVID-19 pandemic, exports will re-commence and even increase.
This was according to Josua van Straaten, chairperson of the Hluhluwe Pineapple Growers' Association, who said exports had almost come to a standstill due to high airfreighting costs, which had more than doubled, as well as the trading restrictions on the pineapple processing and catering sectors, due to the COVID-19 pandemic.
READ Fresh herb demand falters as COVID-19 shuts restaurants
However, Van Straaten said the losses suffered as a result of slow exports were at least partially alleviated by an increase in local demand for pineapples.
The demand for this tropical fruit on the local market "unexpectedly went through the roof" during the lockdown period due to the banning of liquor sales, he said.
"It has sparked the home-brewing of pineapple beer, and we as producers welcome the sudden prominence of Queen [Victoria] pineapples."
Farmer's Weekly previously reported that during March and April, when the Level 5 lockdown was in place, the increase in demand for pineapples resulted in a 200% jump in prices.
In early April the highest price achieved on fresh produce markets for an 8,5kg box of 10 pineapples was R250 compared with the average price over the past two years of R50 to R60.
According to Van Straaten, during the first half of this year production was around 10% less compared with 2019 due to several factors.
READ How a family citrus farm became a mega business
"We had a very long, dry winter period in 2019, with less than average rainfall."
He added that the pineapples in the region were not irrigated and late summer rainfall was crucial for good yields from March until the early summer.
"We have also experienced unusually high temperatures during this past summer, as high as 46˚C. At temperatures higher than 40˚C, severe sunburn can occur, depending on wind and humidity."
In the Eastern Cape pineapple producing region, Wendy Tobbell, sales manager at Summerpride near East London, said that for the current financial year, the estimated production for the region was expected to be around 95 000t.
Tobbell said the company processed pineapples into juice concentrate, of which 90% was exported, and 10% supplied to the local market, with the main export markets being countries in Europe and South America.
"Due to large export [volume], the outlook is positive, but the global impact of the pandemic could negatively [affect] markets due mainly to weaker economies, although there has been some move to healthier drinks like fruit juice."