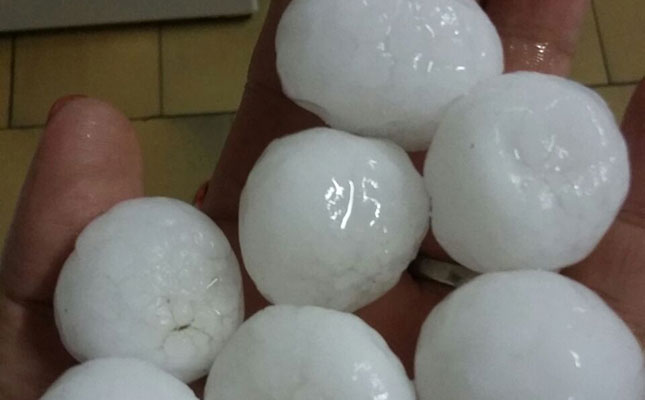 This was according to Koos van Niekerk, chairperson of the Gothenburg Farmers' Association. Van Niekerk added that grain lands suffered extensive damage after topsoil was washed away, while heavy hail resulted in livestock and game losses.
"It is too early to determine the full extent of the damage. I am still trying to round up the cattle that escaped through broken fences. We picked up bakkie loads of game that [died as a result of] the hail and rain. It is beyond description. I've been living in this area for 66 years and I've never seen destruction of this scale," he said.
READ Hoedspruit hailstorm causes millions in damage
According to Johan van den Berg, Santam Agri weather specialist, SA's summer grain production region could expect good rains over the next few months.
He explained that the recent strong winds and hail storms were not unusual, and that such severe weather patterns usually occurred after prolonged drought, particularly at the beginning of the rainfall season.
"A weak La Niña situation coupled with the current favourable conditions over the Indian Ocean promises good rains for the foreseeable future," he said.
Reports of hail and wind damage were also received from Bothaville, Wesselsbron and Bultfontein, amongst others. In the Bothaville region, trees were uprooted, while wheat and maize lands in the Bultfontein area suffered hail damage.
Heavy rain also delayed the planting of soya beans in the eastern Free State.
Meanwhile, South Africa's dam levels remained largely unchanged at an average capacity of 47,9% for the third week of November, despite the good rains reported in central South Africa.
For the same period last year, South Africa's dams were at 64,6% capacity, while dams were at 48,4% capacity last week. Dams managed by the Department of Water and Sanitation were currently at the following capacities, according to the department's website: Gauteng – 78,8%; KwaZulu-Natal – 41,1%;  Mpumalanga – 45,5%.
Nick Opperman, Agri SA's director of natural resources, said that it was too early in the season for the rain to significantly alter dam levels, as considerably low soil moisture levels resulted in the immediate absorption of rain water.