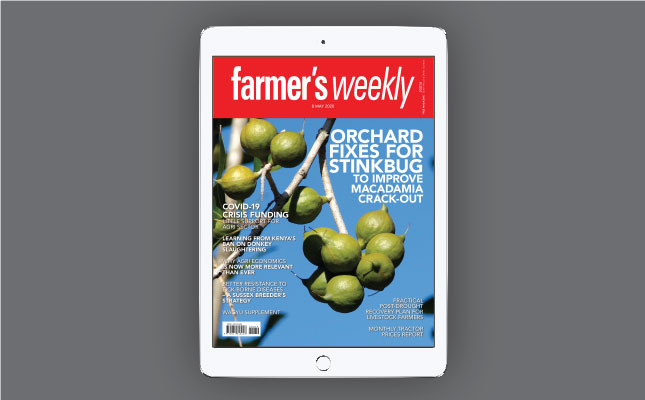 South Africa's five-week long, hard lockdown will be ever so slightly eased from Friday (1 May), when the country moves to a Level 4 lockdown.
Readers of Farmer's Weekly's, the weekly agricultural magazine, will be happy to know that the magazine will be printed again from next week, and can look forward to seeing the publication back in stores when the 15 May issue starts appearing on shelves from 11 May.

In the meantime, as promised last week, Farmer's Weekly is offering free access to its second digital-only issue, the 8 May edition read the magazine below.
(If you are a Zinio, Magzter or MagsatHome subscription holder your magazine will be sent to you.)
The 8 May issue features an article on the financial assistance available to farmers affected by COVID-19, as well as an article on macadamia production with advice to help farmers achieve better crack-out.
This issue also has an article explaining how livestock farmers can rebuild their herds and restore their veld, as well as recover financially, after drought.
This issue also includes a review of the latest Pannar soya bean varieties, and an Eastern Cape farmer shares his experience of farming Sussex cattle on sourveld in a mountainous part of the province.
This issue also includes the popular Monthly Tractor Prices report.
Farmer's Weekly has extended free access to its 1 May digital issue published last week, for all those readers who have not yet had a chance to catch up on their weekly dose of award-winning agricultural journalism. (Read the 1 May edition here).
Both the 1 May and 8 May editions are also available for free to subscribers and non-subscribers on Zinio and Magzter. Digital subscribers will automatically receive a copy of the latest magazine.
To make sure you never miss out on another edition of Farmer's Weekly magazine, readers can make use of a limited-time digital subscription offer and receive 50% off of an annual subscription. You will receive 50 issues of the magazine for only R537,50. Subscribe here.
Print the Covid-19 Stay Safe poster here.
How to use the Issuu.com reader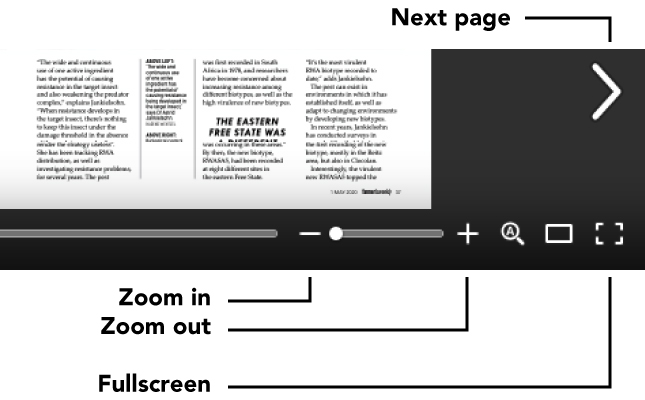 Subscribe to Farmer's Weekly here.