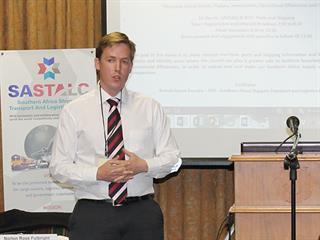 The National Road Traffic Regulations Act was amended by Transport Minister Ben Martins in October last year. The Act now requires that those transporting goods be in possession of a written declaration containing the nature of the goods transported; the particulars of every consignor and consignee of the load; and a compulsory insurance on the goods, among other requirements.
Norton Rose Fulbright associate Peter Lamb told a business breakfast of the Southern African Shippers, Transport and Logistics Council (SASTALC) in Johannesburg recently that the new regulations "will affect the smooth running of logistics" and supply chain processes.
He dismissed them as vague, saying they could have been handled better.
Over the past 20 years there had been a lack of compliance with road regulations, said Mitchell Brooke from Fruit SA, which is also part of the SASTALC. He was of the view that the new regulations would hamper transportation of cargo.
SASTALC CEO Brenda Ferreira shared these sentiments, and called for solutions that would benefit both government and the industry.
Mihlali Gqada, a logistics and economics specialist at the department of transport, urged the industry to engage with government on a continuous basis.
"Let's not have silo meetings and come hit at government. There should be integrated planning among us. We all know where we want to go but we don't know how to get there," said Gqada, whose department will soon arrange a workshop to address issues including policy direction, among others.