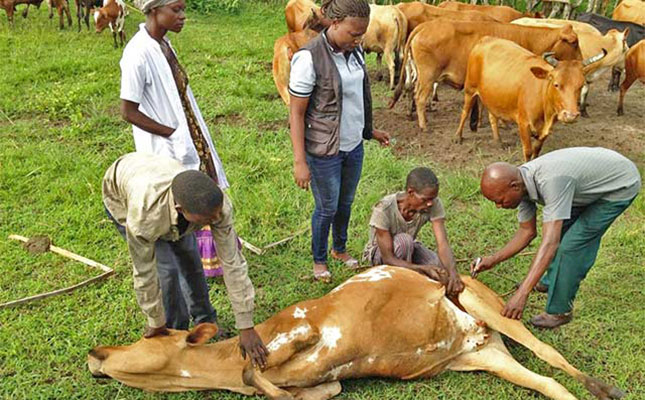 An outbreak of anthrax has been reported in Qeme in Lesotho following the hospitalisation of more than 50 people in the area.
These people reportedly became infected after consuming infected meat from cattle.
In a statement, South Africa's department of agriculture confirmed that the Veterinary Authority of Lesotho had reported three anthrax outbreaks to the World Organisation for Animal Health.
The statement added that the first outbreak began on 12 May, and that a total of 24 cattle were reported to have died of anthrax during the outbreak.
Koos van der Ryst, chairperson of the Red Meat Producers' Organisation (RPO), urged cattle, sheep and goat farmers to vaccinate their animals against anthrax.
"Anthrax also occurs in game, and under no circumstances must venison of infected game be consumed," he added.
Van der Ryst said that farmers needed to be cautious when buying-in new animals, and needed to ensure that the animals were disease-free.
"The movement of animals must, as far as possible, be avoided, and if any mortalities occur, the carcass must be handled with the utmost care; under no circumstances must it be cut open."
Dr Faffa Malan, manager of the Ruminant Veterinary Association of South Africa, said that farmers were legally required to vaccinate their animals against anthrax.
"Animals must be vaccinated every year; there are very effective vaccinations against [anthrax]."
According to Dr Theo de Jager, President of the World Farmers' Organisation there was a similar outbreak three years ago in Lesotho, which had no impact on South African producers.
"There are some concerns about sheep and goats which are not necessarily being vaccinated against anthrax, but fortunately are less vulnerable to it. Although both predators, scavengers and vultures can pose a risk in spreading the disease, there is currently no reason for panic. South Africa doesn't import beef or any other red meat from Lesotho," said De Jager.
Anthrax is a zoonosis and affects both animals and humans.
Symptoms include fever; difficulty breathing; muscle spasms and red mucosa; bloody discharge from the nose, mouth and anus; and a swollen head and neck.