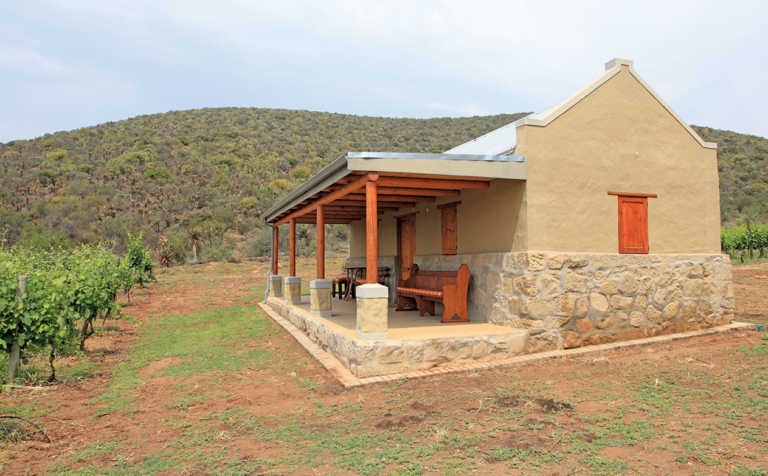 Breaking into the wine market is extremely difficult. No other product offers as diverse a selection of options in terms of brand names, style or price, and the majority of consumers prefer to stick with familiar brands rather than try out new ones.
Winemaker Jacques Conradie of Karusa Premium Wines and Craft Brewery overcame this challenge by cashing in on the unique location of Vogelsang farm near Schoemanshoek in the Western Cape, which belongs to his father-in-law, Johann Landman.
"Rather than trying to compete with commercial brands in the retail market, we've decided to focus on the thousands of tourists who visit the Cango Caves and Oudtshoorn each year," Jacques explains.
To accommodate this strategy, the farm's old packing shed was turned into a restaurant and tasting facility in 2009, creating a new on-farm business opportunity for Jacques's wife, Saretha. Because of the small size of their kitchen and the warm Karoo climate, Saretha decided to serve pizzas and platter-style meals rather than typical fast food such as hamburgers.
This food presentation also complemented their large wine list.
Visitors can choose between 20 wines and six craft beers produced on the farm, as well as craft gin bought in from Grundheim Distillery.
"We offer a wide variety of drinks to cater for the huge diversity in tourist demand," Saretha explains.
Although money was initially spent on print advertising, brochures and road signs, the majority of sales these days are generated via word of mouth, with hotels and bed-and-breakfasts in particular referring guests to the restaurant. Social media, in the form of Facebook and Twitter, are also roped in to showcase the meals and wines and in effect promote sales.
"The trick with social media is to regularly update information and get visitors to participate in posts," Jacques says.
He adds that social media and word of mouth work only when one offers a great dining or drinking experience; they can backfire if poor service results in negative customer comments.
Fortunately, the Karusa brand has established a strong reputation over the years through its wines, winning various wine awards and earning a Top 20 spot in the region's annual Smulpaap Gourmet Awards for the past three years.
Fruit production
The farm had peach and apricot orchards when it was bought in 2004. After a careful analysis of the soil, water and climatic conditions, Saretha's father, Johann, systematically replaced these orchards with improved fruit varieties planted at ultra-high densities to generate the highest possible yield per hectare.
The farm now has 35ha under fruit production, with apricots and peaches each accounting for roughly 6%, olives 2%, and plums and interspecific plums 65% of the production income.
Vineyards were planted on 8ha that were too marginal for fruit production, and wine now accounts for about 21% of the production income.
Approximately 70% of the fruit is exported, while most of the wine is sold via the farm restaurant.
The beer brewery was started five years ago to fill the gap during the quiet winter season.
The beer is made in batches of 500ℓ, as required, from the time the wine harvest season ends until September, after which the weather becomes too hot for fermentation.
Barley is bought from Caledon and hops from Waboomskraal Valley near George.
Wine production
Wine production made business sense, as wine grapes were grown extensively in the region until the closure of the Kango Co-operative. Today, the nearest other wineries are situated in Calitzdorp and De Rust.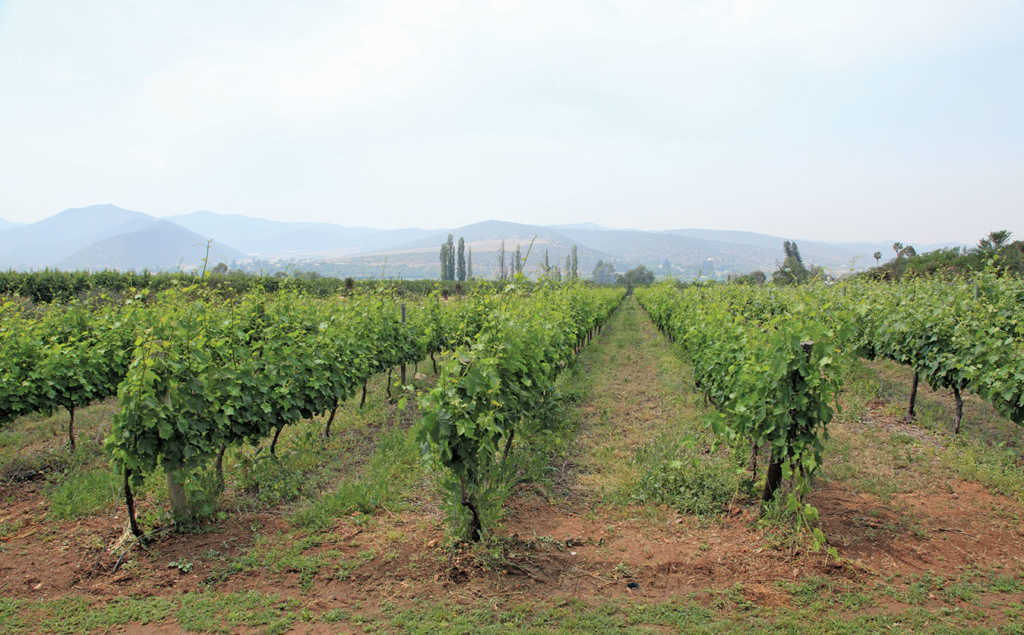 Jacques had accumulated more than a decade's worth of industry experience, working as a winemaker at Mooiuitsig, Graham Beck, Bon Cap, Boplaas and estates overseas, which has made him highly knowledgeable about planting and production management.
His decisions on which varieties to plant, and where, were guided by the results of soil mapping, which analysed water availability, soil fertility and micro-climate.
Karusa's Southern Slope Sauvignon Blanc, for example, is made from a single vineyard on a south-facing slope at an altitude of 550m, on weathered, rocky soil, to bring out the minerality and tropical flavours of this variety.
In contrast, the estate's Aloe Ridge Chardonnay is produced from a single vineyard planted on a north-facing slope to bring out the ripe citrus flavours of the variety.
Chardonnay, Sauvignon Blanc, Pinotage, and Mediterranean cultivars such as Shiraz, Viognier, Mourvèdre and Genache Noir were planted, as these varieties can tolerate considerably warmer climatic conditions than traditional Bordeaux varieties. All varieties save one are planted in blocks of 0,5ha at the standard row spacing of 1,2m x 2,4m.
The exception is Mourvèdre, a highly vigorous grower, which is planted at a spacing of 1,8m by 2,4m to make enough room for the vines.
Trellising and mulching
Instead of using the traditional vertical-positioning Perold system, Jacques and his team planted the vineyards on a double three-wire Perold trellising system to ensure good light penetration and a healthy balance between vegetative and fruit growth.
No cover crops are planted due to the scarcity of water, but weeds are used as mulch to reduce evaporation.
"Weeds in the vineyard rows are kept under control by applying a grass herbicide twice a year, while those growing between the rows are chopped with a converted bush cutter that ejects the organic material onto the rows," he says.
Coarse wood chips are placed on the vine rows every alternate year, after which aerated compost tea, produced on the farm, is applied via irrigation to accelerate its decomposition and boost soil health.
The farm has few problems with pests and disease. Electric fencing, erected two years ago, keeps baboons and porcupines at bay, and nets are spread over the vines after cell formation to prevent bird damage.
While wine grape production averages between 15t/ha and 18t/ ha in the Klein Karoo, Karusa's volumes are kept between 6t/ ha and 8t/ha for the production of premium wines.
This requires little intervention, as production is constrained anyway by the marginal quality of the soil, pruning, and the use of growth-inhibiting rootstocks such as 101-14MGT.
In addition, grape berry size is reduced by halving irrigation from the time the berries are between the size of a matchstick and a pea (a period of about three weeks).
Irrigation is also halted a few days before picking to avoid flavour dilution. According to Jacques, this helps create intense wine flavours.
The farm produces between 80t and 100t of wine grapes a year, with additional grapes bought in as needed.
Email Jacques Conradie at [email protected].